DeShawn's Robe, the Locksmith and Stewie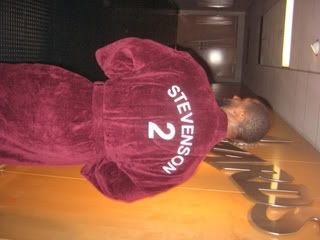 Six more crucial factoids small, insignificant facts as the Wiz get ready for four games in five days....
I got to practice today expecting the worse. I hadn't been around much lately, but 2008 seemed to have gotten off to an unusually sober start, what with the locker room adjustments meant to instill a more professional pre-game atmosphere and all. So I figured things might be muted.
1) When the media was allowed into practice, Nick Young and the Young'uns were scrimmaging the vets. Caron Butler was at the free-throw line. "SuperVet, all net," predicted DeShawn Stevenson. Butler made two to tie the score with 11 seconds left, and the Young'uns couldn't score during a long sequence during which Young never touched the ball.
"Y'all don't want to see a young man grown up," he complained.
2) The first interesting part of overtime was when DeShawn crouched down on defense while shaking his baggy pockets. "I got your Range Rovers, your Toyotas, your Hondas," he was saying. After a defensive stop he turned to Nick Young.
"You want your keys back? Lemme look in here," he said, rummaging through his pockets. "What do you drive?"
So after the SuperVets hung on for the win, my natural question was, huh?
"That's my new name, the Locksmith," Stevenson said.
GM Ernie Grunfeld gave him the name after he helped stifle Kevin Durant the other day. Or, you know, "locked him down," in general manager parlance.
"It's like 'Tough Juice," the Locksmith explained. "If I lock you up, then I've got your keys, you can't drive any more. I was looking for Andray's keys, Nick Young's keys. I was looking for everybody's keys because they couldn't move."

3) So then the Locksmith left, saying something about how he had to get his robe, and he emerged seconds later wearing a burgundy bath robe with his name and uniform number on the back. Remember, moments before I had been worried about things being too serious 'round these parts. And now a starting NBA two guard was parading around his arena, showing off his new customized bathrobe.
"Let me see if people like it," he said, entering the practice court.
"We got new robes?" Coach Eddie Jordan said, upon seeing his robe-clad starting guard.
"It's nice, right?" the Locksmith asked him.
"Can I get one with 'Nick Young, 1?' " Nick Young asked?
If you're wondering, well, the Locksmith once wore a Ritz Carlton robe in a road locker room, and the team seemed to think it was funny, so he figured he'd keep doing it, but he decided to get personalized robes, so he recently received four robes with his name and number, and he wants to get Wizards logos on some and maybe Bullets logos on others--"like throwbackish," he said--and one of them, of course, will say "Locksmith."
"I asked everybody on the team if they wanted one; they thought I was playing around, but I have 'em now," he said.
(And you, too, can own a personalized athlete robe!)
Someone asked what was on the inside of the robes.
"My skin," the Locksmith said.
"Let me see this thing he's going crazy about," Butler said, picking up and examining the robe a few minutes later. Butler was asked for his thoughts.
"They're cute," he said. "They're cute, they're cute."
4) It's worth noting that Oleksiy Pecherov shot the ball on two of the Young'uns last three possessions.
"He's kind of like me; he can put 'em up," Antawn Jamison joked.
"I know he can make shots, and he's not shy," Caron Butler said. "He's far from shy. Little Stewie gonna go out there and get shots."
Stewie?
"Look just like him, right?" Butler said. "Think about it."
[Butler then asked the WaPo layout editors to put side-by-side shots of Pecherov and Stewie in tomorrow's paper, but I'll leave that up to them.]
[Programming note: Butler will be in studio with TNT's "Inside the NBA" tonight. I asked what he'd say. "I'm spontaneous," he said. "It'll come off the dome."]
5) Pecherov was doing a TV interview. Jamison tried to distract him by repeatedly saying "Get Buckets Son!" Pecherov didn't blink, didn't crack the hint of a smile.
"That's a good interview," Jamison said.
Then Jamison started some interviews, and Pecherov finished, and he turned around and began shouting "Get buckets son! And keep it gangsta son!" And Jamison, of course, completely lost it.
"That's what I've got to deal with," he said.
6) Eddie Jordan was asked who he thought should be the Redskins head coach. This is the time when all coaches throughout history would deflect the question with a quip and a laugh.
"I'd like to see Gregg get it, I really would," Jordan said. "He sent me a few cards, so I'm in his corner."

[You know, this is going to be too long. I'm gonna make a second item out of this.]

By Dan Steinberg | January 10, 2008; 5:07 PM ET
Categories: Wizards
Save & Share:
Previous: Tamir Goodman's First Two Games
Next: DeShawn's Tattoo: An Update
The comments to this entry are closed.