DeShawn's Tattoo: An Update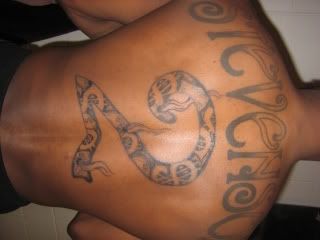 If I'm not mistaken, there's still more work to be done, but here's the number, joining the name.
Did I realize that the number would be filled in with dollar signs, $100 bill icons and what looks like bullet holes? I did not.
Also, it's sort of a nice complement to the personalized bathrobes, no?
By Dan Steinberg | January 11, 2008; 6:37 AM ET
Categories: Wizards
Save & Share:
Previous: DeShawn's Robe, the Locksmith and Stewie
Next: GW Colonials = Locksmiths
The comments to this entry are closed.