Fans Heckling Sellers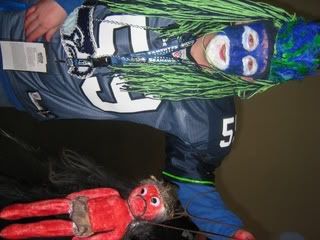 It takes a special kind of wacko to call Mike Sellers a lady. Luckily, Seattle has provided several special kinds of wackos.
The Seahawks fans staked out prime territory above the Redskins tunnel and heckled everyone in sight. Ballboys. Public relations persons. Assistant coaches. Players on injured reserve. Equipment men.
(Speaking of making fun of Seattle, the pre-game show--which was broadcast throughout the stadium concourse--spent great amounts of time criticizing Tom Boswell's column saying the Redskins had a tougher schedule than the Seahawks. Then fans asked me whether I wrote that column.)
(Speaking of Seahawks fans, they're currently booing Ethan Albright.)
(Speaking of Seattle, there's apparently someone perched on a bridge outside the stadium, threatening to jump. Seriously.)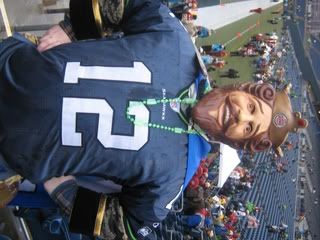 Anyhow, that tunnel. The insults varied. Jason Campbell was heckled for being hurt; "look at this guy in the matching jammies," they screamed at him. "Hey Campbell, you've got to play hurt in the NFL, you've got to play hurt. Get your gear on."
Daniel Snyder was heckled for, I'm not sure what. "Wal-Mart of the NFL," they yelled at him.
Mark Brunell was heckled for being short; "Hey little fella, get your hands out of your pockets," they yelled at him. He pinched Pete Kendall's behind.

Shaun Suisham was heckled for existing; "oh oh oh oh look at the kicker!" they yelled at him.
Stephon Heyer was heckled for his hair; "are you from Predator 3?" they asked him.
And everyone was heckled about Mike Sellers's piped noise accusations.
"Pipe this," they screamed. "Should I pipe my voice in there?" there screamed at anyone with headphones on. "Pipe my voice buddy," they screamed. "Can you hear me? Can you hear me?" they screamed.
Luckily, a few Redskins were willing to give it right back to the fans.
"Riding the pine sucks," the fans yelled at Randy Thomas.
"Your job sucks," Randy Thomas replied with a smile.
"You're nobody," Jason Campbell said to his hecklers.
Of course
"[Bleeping] [bleep], [bleeping] [bleep], get your hands out of your pockets [bleeping bleep]," they yelled at Chris Cooley. He smiled, turned his head and spit on the ground.
Rock Cartwright clapped at the Seattle fans. Matt Sinclair waved his arms in the air. Ryan Boschetti told them "we're gonna do it for you."
Sellers, of course, got it worst, a torrent of insults when he walked in and out of the tunnel. "C'mon ladies, c'mon!" one fan, Rob Larsen, screamed at Sellers and Cooley, who were watching and laughing. "Hey Sellers, get out here! Get out here, Sellers!"
And so on. I tried to explain to this poor soul that Sellers would eat him and chew his bones, but he didn't care. He was too fired up about the artificial noise allegations.
"It was the greatest thing he could have ever done, the greatest thing, by far," Rob was saying.
Sellers, of course, chose to walk in and out of the tunnel repeatedly, soaking in the noise and the insults. Then he turned his face up to the fans.
"I can't hear you," he said, frowning and raising his arms quizzically. "I can't hear you."
By Dan Steinberg | January 5, 2008; 3:47 PM ET
Categories: Redskins
Save & Share:
Previous: Sellers and the 12th Man
Next: Marcus Pollard's Hair
The comments to this entry are closed.