Georgetown Fans Kissing
I TiVo'd the Hoyas game last night, so I could watch it quickly to try to answer my most important question: were any Georgetown fans captured on TV wearing costumes.
Sadly, I did not see any, although I certainly saw lots of shirtless folks. But happily, there are other things you can notice when watching a basketball game in 10 minutes and wondering how your career devolved to taking grainy photographs off your TV.
1) Students smooching on camera. This is something of a trend, right? Fans wait for a key moment when the camera might pan over the fans, then lock lips. I'm not sure I understand. Clearly someone who reads this will know these two individuals; please, get them to e-mail me and tell me why they wanted to kiss on camera following a relatively minor Georgetown dunk with something like 10 minutes remaining in the game. I believe the kiss was a little sloppier than the following images would make it seem.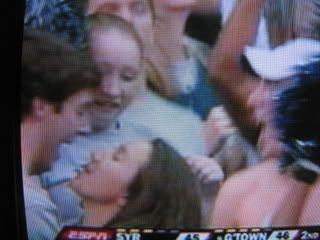 2) Jim Boeheim, fiddling with his nose, repeatedly. As someone who appears on camera myself, I probably shouldn't go down this road, but what the heck.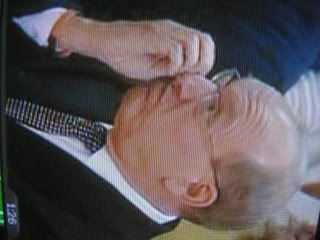 3) New Jack City, hanging out with Bill Raftery.
By Dan Steinberg | January 22, 2008; 12:39 PM ET
Categories: College Basketball
Save & Share:
Previous: Dave Hopla's Legend Grows
Next: Gary Williams Loves Misery
The comments to this entry are closed.