Giants Media Day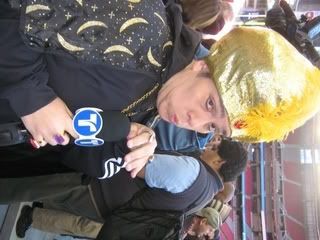 Well jeez, it was basically just the same thing over again. The players don't really matter, since this is about the media freaks more than the players. The lady in the wedding dress asking all the players to marry her was turned down by Matt Cassel, Tom Brady, Eli Manning and Jared Lorenzen, who told me he very much wished he could have helped her out but he already has a wife. The astrologist performed hidden ring tricks that didn't work. The talking stuffed monkey was replaced by a talking stuffed newscaster type; I saw him lying on the ground at one point. Deion Sanders posed for photos with several players, but refused my interview request. Giants defensive coordinator Steve Spagnuolo refused to address Redskins head coaching rumors, surprising those of us who figured he'd provide a detailed rundown of his contact with Daniel Snyder and his chances at landing the job.
Probably 1/5 of the Giants roster wore sunglasses, despite the fact that it wasn't all that sunny inside the stadium. I thought that would make for an interesting blog item until I noticed that all the big media people--John Clayton!--were also wearing sunglasses. Jason Whitlock explained that shades have a slimming effect; that women who think he weighs 320 with eyes uncovered drop him down to, maybe, 317 with shades. Many of the Giants were wearing both sunglasses and "Pickler" eye strips; Kellie Pickler clearly had a bigger influence on today's events than any other person.
Someone from a show called "The Black Carpet" performed various dances with various Giants; "hey, I got rhythm, it was in my daddy's blood, it trickled down," said Torrance Daniels after his dance, which teammates taped on their handheld videocameras, which are by now are carried by just about every player, except those who have two handhelds, to cover for teammates on the podium.
Michael Strahan said Jeff Feagles is so old he farts dust, and that Eli Manning's pranks include throwing things over the side of the bathroom stall, disrupting people who are attempting to conduct personal business.
Now I'm being asked to leave my perch by a garbage can; some photographer just stopped by to snap my picture. I think you could put 110 random people at podiums and have media freaks dressed like astrologists interviewing them and it would probably be of equal value to the world, but it's still kinda fun.
By Dan Steinberg | January 29, 2008; 3:25 PM ET
Categories: NFL
Save & Share:
Previous: Pats Media Day: Astrologists and Wedding Dresses
Next: The Patriots' Beards
Posted by: pusher man | January 29, 2008 3:33 PM | Report abuse
Posted by: ScottVanPeltStyle.com | January 29, 2008 3:58 PM | Report abuse
Posted by: Arlington Pimp | January 29, 2008 5:11 PM | Report abuse
The comments to this entry are closed.