Hoyas Win! Pikachu Returns!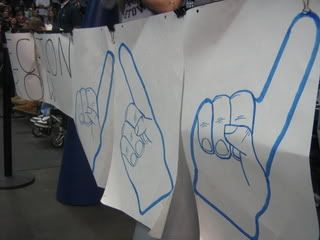 Roy Hibbert's game-winning three-pointer this afternoon set off a sea of gray exultations, thousands of leaping and hugging and screaming students behind both baskets, clad in monotonous gray Hoyas t-shirts.
And then, like a single florescent banana dropped into a silo of oatmeal, there was Andrew Leighton. Dressed as Pikachu.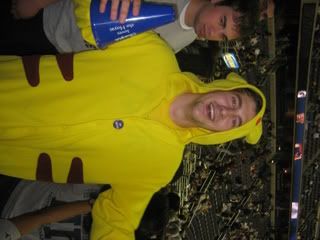 Leighton famously attended several Hoyas games last year wearing the Pokemon character's mask. Since then, his girlfriend went to Japan and brought him back the full suit, complete with hood.
"I had to step my game up," Leighton explained.
And in fact, those gray "Now They Know; Here We Come" shirts notwithstanding, it became clear early in the afternoon that this was a fashion-forward crowd. More than an hour before tip-off, as U-Conn.'s players leisurely took some practice shots in a near-empty arena, the Georgetown student section noticed an unusual accessory on the back of the Huskies' warm-ups. Hoods.
"Put the hoodie on, I want to see it!" the Georgetown fans requested. "Do the catwalk! Seriously, that's the best you can do? Ugly hoodies? Go down to M Street!"
And so on. U-Conn. star Jeff Adrien emerged, sans hoodie. "Where's your ugly hoodie?" the Georgetown fans asked.

(The home fans also had cheer sheets. One side of the sheet detailed several off-the-court issues the Huskies have faced, leading to the ubiquitous "where's my laptop?" chant whenever A.J. Price shot free throws. Also, the cheer sheet referred to Jim Calhoun as "Sleezeball." The other side of the cheer sheet contained Eight Rules for Cheering Like a Hoya, including No. 4: "A Hoya keeps it classy.")

(Lest I be accused of emphasizing the negative, let it also be said that some students have formed Rejection Row, on which they post the outline of a large foam finger after every Georgetown blocked shot, in honor of Dikembe Mutombo's finger waggle. They've also solicited donations for every Hoya blocked shot this season, which will eventually be delivered to Mutombo's foundation. Rejection Row is still considering replacing the foam finger outlines with massive blow-up images of Mutombo's actual finger.)

Anyhow, back to the style. There was Bill Jorch, dressed like Fred from Scooby Doo, sitting one row in front of Berry Kurland, wearing a fake mustache.

"Why not?" Kurland asked. "If you're going to show support for the Hoyas, you might as well grow as much [fake] facial hair as possible."

There was Greg Goldberg, wearing a Mexican wrestling mask he acquired over winter break in Cancun. Why wear a Mexican wrestling mask to a college basketball game?

"It's blue," he noted, which, in case anyone doubts, is more than enough exlanation for me. (Seriously, Hoyas fans who accused me of not liking costumes: you're wrong. I love costumes. I love costumes almost as much as I love 7-foot-2 game-winning three-pointers.)
There was a guy in a Superman cape, and four fans wearing homemade "The Second Coming" t-shirts in honor of Patrick Ewing Jr., and not far from Rejection Row there were four Georgetown law students, three of whom were wearing pin-striped zoot suits. They bought them on sale during the Final Four last spring, and have been wearing them to Georgetown games ever since. They said Hibbert told them to.
"He didn't explicitly do it," Andrew Doss admitted. "But implicitly, he asked us. We heard the message. We're calling on everyone else to join the zoot suit army for Roy."
Oh, and as for that game-winning big man's style? Hibbert's on-again-off-again gray undershirt was on again for the first half, and off again for the second.
"Just got a little overheated," he said after the game.
Three More Points:
* Caps captain Chris Clark sat courtside with Caps owner and Georgetown super fan Ted Leonsis. After the halftime promotional contest, Clark briefly found himself holding a large Chik-fil-A stuffed cow.
* Best sign: "Fear the Freshman 15," in honor of Hoyas freshman Austin Freeman, who wears that number. Other signs: "Jerome Dyson went to my middle school," appearing directly next to "But he can [edited for taste]."
* Hibbert, on how far his shooting range extends: "I'm just going to keep my feet on the three-point line right now. I don't know how much range I have." Hibbert, on whether Jonathan Wallace, the school's career leader in three-point field goals, should be concerned: "Nah, not really, he's still the all-time three-point shooter at Georgetown. I have some ways to go." Hibbert, on whether he could beat Wallace at H-O-R-S-E: "I'm gonna work at it, but he's a tough guy to play. I don't even play him. I play Pat."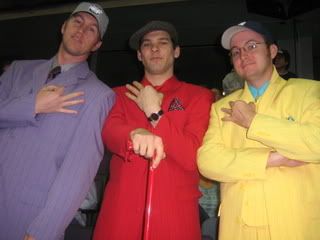 By Dan Steinberg | January 12, 2008; 7:01 PM ET
Categories: College Basketball
Save & Share:
Previous: Atlantic 11 in Than-Bauk
Next: 52 Hours at Verizon
The comments to this entry are closed.