I Teach Stacy Keibler the Ickey Shuffle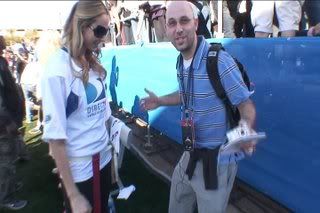 The subject line is true. If you know who Stacy Keibler is, or even if you don't, I tried showing her the Ickey Shuffle today and encouraging her to perform said shuffle if she scored a touchdown in today's beach football game. She sort of stared at me. We'll have video of this at some point.
Until then, let me list several mandatory ingredients for a successful pre-Super Bowl event.
1) Women wearing clothing just large enough to accommodate at least one brand name.
2) Midgets wearing Giants and Patriots jerseys.
3) Famous people whose first names are, uh, Geoff and Frankie or something.
4) At least one Playboy model.
5) Matt Leinart.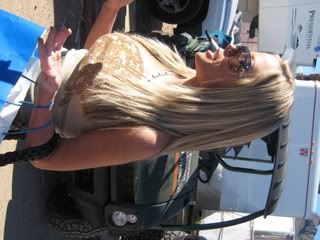 Thankfully, the Beach Bowl, held in some sand-pit next to some outdoor den of debauchery in the Dirty 'Dale, went five-for-five on that particular checklist. The scantily-clad women, selling satellite TV service, kindly greeted photographers by turning their branded behinds to the cameras without the photographers even needing to ask. The midgets wore green wigs and dueling "69" jerseys; they were eventually joined by a leprechaun. The famous people turned out to include Geoff Stults from "October Road" and Frankie Delgado from "The Hills," who was accompanied by his nightlife buddy Brody Jenner. The playboy model was Kendra Wilkinson, who--in a development foretold by page 104 of the Super Bowl Handbook --received a considerably larger ovation than, say, Desmond Howard or Rocket Ismail.
(I hate to keep harping on this, but seriously, Super Bowl Week seems primarily about selling things and parading somewhat provacatively dressed women in front of leering men.)


And Matt Leinart somehow continued his streak of attending every social event in the state of Arizona by serving as the coach of one of the two teams, which were both wearing uniforms hawking, what do you know, satellite TV service.
Throwing several sports figures into this mix made for a few second-and-third takes, in which the marginally famous from one field sized up the marginally famous from another, and in which I stared at all of them while asking anyone in sight "who's that? And what about that?"
"Somebody asked me which celebrity I most wanted to meet," said former fullback, Daryl Johnston, when asked before the game whether he knew all his teammates. "That guy over there," he responded. "Who, Geoff?" he was asked. "Yeah, Geoff," he agreed.
(The marginally famous included two guys from Fall Out Boys, Doug Flutie, Maria Menounos, Michael Irvin, Michael Clarke Duncan, Bonnie Jill-Laflin, Molly Olly, Merrill Hoge, January Jones, David Spade, Carl Banks and Brooke Mueller.)
Of course, an event like this also requires at least a half dozen ex-NFL players, and so here came Ickey Woods, whose present stature would seem to indicate he could stand a bit more shuffling. Put it this way: If it's fourth-and-one in your neighborhood beach flag football game, and you're thinking of running it up the gut, do call Ickey. There were lots of women with enhanced upper bodies at the event, and yet Ickey still had the largest breasts.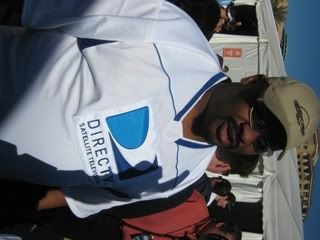 "Just trying to get my three plays in and then sit on the sidelines," Woods said before the game, and then gave us a brief rendition of the shuffle.
The current players were condemned to ceremonial roles; Leinart and Chad Johnson were coaches, and Bears linebacker Lance Briggs was a referee, perhaps in deference to the massive beach-football knee injury that once wrecked running back Robert Edwards's career. But competition and a live audience and television producers prompting that live audience to cheer louder can fiddle with a man's soul, and so in the second half Chad Johnson came off the bench to catch a touchdown from Warren Moon.
Leinart, the other coach, seemed less engaged; at one point his quarterback, Doug Flutie, wanted to challenge a ruling on the field, but he first had to rouse Leinart from a sideline conversation with one of the blonds on his team. Might have been Molly Olly. Or maybe Brooke Mueller. Or even Stacy Keibler, who was playing for the opposing team but nevertheless found her way to Leinart's sideline.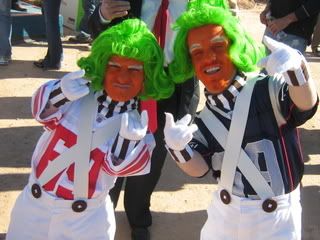 "What does Matt Leinart call ménage à trois," joked actor and ex-linebacker Terry Crews during a break in the action. "Thursday," was the answer.
Leinart, though, had competition for the hearts and minds of the female fans. On the other sideline was bassist Pete Wentz from Fall Out Boy, guaranteeing a certain decibel of crowd support. Despite having both eye black AND sunglasses, Wentz earned a DNP--"I've got a broken foot; well, it just got unbroken this week," he said before the game--leaving his tattooed, long-haired waif-like drummer Andy Hurley as the only pop punk/emo-rocker on the field.
Hurley left early after trading phone numbers with Leinart, and his teammates were similarly bridging the sports-entertainment gap.
"I know my entire team now," Johnston boasted.
Then we went to the next-door debauched party, where drunk Giants fans were hitting on a woman who must dance for a living.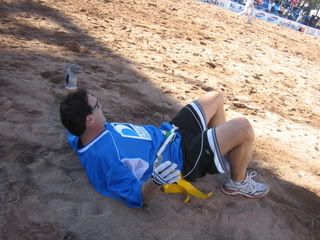 By Dan Steinberg | January 31, 2008; 9:28 PM ET
Categories: NFL
Save & Share:
Previous: NFL Mullets and Media Mullets
Next: Westbrook Brothers at Super Bowl
Posted by: jamie | January 31, 2008 10:40 PM | Report abuse
Posted by: RB | January 31, 2008 10:51 PM | Report abuse
Posted by: sitruc | January 31, 2008 11:09 PM | Report abuse
Posted by: Chest Rockwell | January 31, 2008 11:58 PM | Report abuse
Posted by: Come back, ASAP, DC | February 1, 2008 7:56 AM | Report abuse
Posted by: andy | February 1, 2008 8:54 AM | Report abuse
Posted by: ScottVanPeltStyle.com | February 1, 2008 11:42 AM | Report abuse
Posted by: Jon | February 1, 2008 12:17 PM | Report abuse
Posted by: sitruc | February 1, 2008 12:55 PM | Report abuse
Posted by: EricS | February 1, 2008 4:04 PM | Report abuse
Posted by: EK | February 1, 2008 4:27 PM | Report abuse
Posted by: Jeff | February 1, 2008 9:16 PM | Report abuse
Posted by: harpmick | February 2, 2008 7:34 AM | Report abuse
Posted by: mrpjs1976 | February 2, 2008 3:41 PM | Report abuse
Posted by: olly stacey | April 1, 2008 6:45 AM | Report abuse
The comments to this entry are closed.