Junior Seau's Hat
At some point, listening to Wes Welker discuss the merits of Sam Madison, my eyes glazed and I just left the Patriots media session. I know, I know, the Post should have sent a blogger who actually cares what tackle Matt Light thinks about the Giants' defensive line, instead of a blogger who was too busy being irritated that he missed the part where Light sent a shout-out to his barber and described the state of his scraggly hair. Send a letter to the editor.
So all I was left with were these pictures, of Rodney Harrison's jacket, and Junior Seau's hat. I found both quite fetching.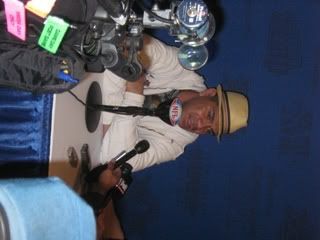 By Dan Steinberg | January 28, 2008; 8:27 PM ET
Categories: NFL
Save & Share:
Previous: Local Poll Week 11: Super Showdown Week
Next: Maxim I Love You Please Invite Me
The comments to this entry are closed.