Kellie Pickler and Terry Bradshaw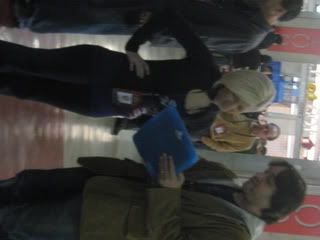 So within maybe four minutes of arriving at University of the Internet stadium, who should we see walking past us but Terry Bradshaw, followed moments later by Kellie Pickler, who is apparently here in the employ of the Tonight Show and was dressed a bit differently than Terry Bradshaw.
While the media queued up for fluffy bagels and chocolate muffins, I asked whether I might have a word with Ms. Pickler, who, as you no doubt realize, looks a bit different than she did on American Idol. Like, she has a lot of heart now. And a lot of stuff on top of her heart. Anyhow, whatever TV person I was led to said, "I'm really trying to keep her focused on this right now."
"What's 'this' ?" I said.
"Media Day," he said.
"Well, I was gonna ask her about Media Day," I said.
"Yeah, thanks, I'm gonna have to pass," he said, or something to that effect. I can only pray that all of her interviews turn to mushy bagel. Now she's looking at sparkly NFL jerseys and pom-poms and tossing around a football.
Oh, and Gregg Doyel apparenty broke his nose last night. Gotta love Super Bowl week.
By Dan Steinberg | January 29, 2008; 11:24 AM ET
Categories: NFL
Save & Share:
Previous: Rich Eisen on the Skins Coaching Search
Next: Media Costumes
The comments to this entry are closed.