Local Hoops Poll Week 10: Suspended Animation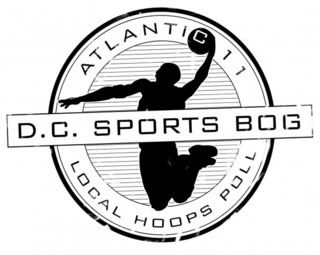 Remember what Gary Williams said about how the Terps were going to have a lot of new friends after that win over UNC? Well, he might as well have been talking about our voters. A week ago the Terps were ranked eighth, behind such powerhouses as Maryland-Baltimore County; now Maryland is third and knocking quite loudly on the second-place door. Which would set up Georgetown-Maryland as one-two, a game that will be played for real in 2009in 2010in 2011 never. The Terps also stole two of Georgetown's first-place votes, while William & Mary nabbed one.
Meanwhile, the suspended Virginia schools are dropping. Virginia Tech, with Jeff Allen suspended, goes down a spot (although the Hokies received votes for every slot besides first, which is cool). Virginia goes down two spots. James Madison, with Joe Posey suspended, tumbles three spots. William & Mary makes its season debut, Richmond falls out, and Hampton goes higher than any MEAC school has ever gone before.
The AP ranks 'em like this: Georgetown (9th), Maryland (one vote), which is actually an improvement on what our teams got last week. The coaches rank 'em like this: Georgetown (9th). No one else received votes. Someone tell the national voters to stop sleeping on VCU.
The RPI's Top 7 would go like this: Georgetown (12th and rising), George Mason (49th), VCU (61st), Virginia Tech (77th), Virginia (78th), Maryland (80th), Hampton (92nd). Not horribly different from us.
Results and pith after the jump.
1. Georgetown (15-2) 647 (62)
--Saturday at West Virginia.
--How much do you think the Hoyas could have lost to Pitt by and still stayed atop the Atlantic 11? I say infinity times three. (Max Wass)
2. VCU (13-4) 499
--Wednesday at Hofstra, Saturday vs. Drexel.
-- In Saturday's win over ODU, Eric Maynor and Jamal Shuler combined for 52 points. Which is eerily similar to Heath Shuler's career QB rating of 54.3. (Scott Allen)
3. Maryland (12-7) 467 (2)
--Sunday vs. Duke.
--Is it possible to stop playing now and quit while they're ahead? (Kevin O'Connor)
4. Virginia (11-5) 433
--Wednesday at Florida State, Sunday vs. Georgia Tech.
--Mamadi Diane totally needs to marry a woman named Steak. (Michael Palan)
5. George Mason (13-5) 396
--Wednesday vs. Old Dominion, Saturday at UNC Wilmington.
--Along with his 10-for-10 three-point shooting against James Madison, Dre Smith also had two assists. The question is: Why? (Glenn Arnold)
6. Virginia Tech (11-7) 369
--Thursday vs. Duke, Saturday at Boston College.
--In the latest example of someone with no first names trying to hold those of us with two first names down, official Zelton Steed ejected VT's Jeff Allen for inappropriate conduct. (Scott Allen)
7. UMBC (12-7) 183
--Tonight at Boston U.
--Wasn't UMBC a contender in this poll just a few weeks ago? They are the John Edwards of the Atlantic 11. (Markus Videnieks)
8. Hampton (10-6) 119
--Saturday vs. Coppin State.
--Kevin Nickelberry twice referred to his team this week as the "Big Bullet." Uh, Kevin, I think "Big Wizard" is a little more PC. (Scott Allen)
9. James Madison (10-7) 112
--Wednesday vs. Delaware, Saturday at Towson.
--Note to the Dukes: Dre Smith's open behind the three-point line again. You might want to send someone over to cover him. (Paul Campbell)
10. American (10-8) 107
--Wednesday at Army, Saturday vs. Holy Cross.
--Iona beat Fairfield, which beat American, which beat Maryland, which beat North Carolina, which beat Iona. Ick. (Glenn Arnold)
11. William & Mary (9-8) 78
--Wednesday at Drexel, Saturday vs. Old Dominion.
--Has a five-game winning streak, which is something only four other A-11-eligible teams could say at any point so far this season. And my lady says I'm wasting my time! Ha! (David Larimer)
Also receiving votes:Richmond 34, Old Dominion 23, VMI 18, George Washington 16, Loyola 10, Morgan State 3, Norfolk State 2, Towson 2, Liberty 1, Mount St. Mary's 1, Green Bay Bikini Girls 1, Alex Ovechkin's missing tooth 1, the Good Doctor 1, Gregg Williams 1, James Gist 1, Shay Doron 1.
By Dan Steinberg | January 22, 2008; 7:29 PM ET
Categories: College Basketball
Save & Share:
Previous: More Hoya Costumes: A Banana and Scooby
Next: Today's Top Five: The Ghetto and Norman Chad
The comments to this entry are closed.