Local Hoops Poll Week Eight: Atta Loss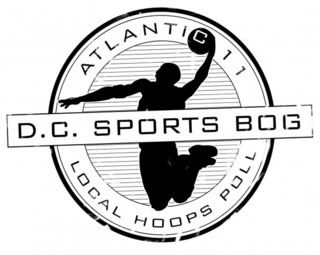 Well, we took a bit more than a week off, and Georgetown and Maryland were the only ranked teams that made it through unscathed. A voter suggested we convert this into a Local Poll for some other region, rotating that region weekly. Taken under advisement. If anyone is interested in doing a weekly Pacific Northwest 11 Hoops Poll Spectacular, lemme know. Or maybe a Hudson Valley Poll?
I find some of the Poll's results this week surprising, but I admit that it's hard to compare losses. Mason passes VCU, which remains ahead of James Madison despite a head-to-head loss. Likewise with Virginia Tech and Atlantic 11 newcomer Richmond. And Old Dominion, which has lost to everyone, stays in the Atlantic 11 despite a losing record, which really marks a new low. Georgetown is again unanimous.
The AP ranks 'em like this: Georgetown (7th). Yup, that's it. No also receiving votes here. The coaches rank 'em like this: Georgetown (8th). No one else received votes.
The RPI's Top 7 would go like this: Georgetown (32nd), George Mason (54th), VCU (59th), Virginia (63rd), Virginia Tech (76th), UMBC (87th), Hampton (88th). Maryland is 157th. This is the first update in which the Hoyas have led the Locals in RPI. Georgetown could not win for a fortnight and still remain tops in this poll.
Results and pith after the jump.

1. Georgetown (11-1) 560 (56)
--Tuesday at DePaul, Saturday vs. Connecticut.
--Next week, Robbie Madison will attempt to better his New Year's Eve world record motorcycle jump of 322 feet by jumping the gap between the Hoyas and the No. 2 Bog Poll team. (Bill Fitzgerald)
2. Virginia (10-3) 458
--Sunday at Duke.
--Far enough behind the Hoyas to have no hope of overcoming them; far enough ahead of the pack to be able to withstand a 38-point loss and still remain No. 2. (Jason Anderson)
3. George Mason (10-4) 384
--Wednesday at Delaware, Saturday vs. Northeastern.
--They got past Towson this weekend, and as anyone who has ever driven North on 95 can attest, getting past Towson is all that matters. (Markus Videnieks)
4. VCU (9-4) 361
--Thursday vs. Georgia State, Saturday vs. Hofstra.
--Win over UNC Wilmington proved that at least one area team can beat the Seahawks. (Michael Palan)
5. James Madison (9-4) 290
--Wednesday at unranked William & Mary, Saturday vs. UNC Wilmington.
--VCU beats Duke last year, loses to the Dukes this year? Regression to the mean. (Paul Campbell)
6. UMBC (10-5) 279
--Wednesday vs. Vermont, Saturday vs. Maine.
--If college basketball were politics, UMBC's win in New Hampshire would force American and VMI to drop their programs until next season. (Bill Fitzgerald)
7. Maryland (9-6) 220
--Tuesday vs. Holy Cross, Saturday at No. 8 Virginia Tech.
-- It doesn't take much to move up in this poll when the rest of the field has so many warts. See also: Huckabee, Mike. (Jamie Paquette)
8. Virginia Tech (8-6) 116
--Tonight vs. Charleston Southern, Saturday vs. No. 7 Maryland.
--Hosts Maryland on Saturday? Huh. I didn't realize the ACC Tourney play-in game was scheduled so early this year. (Glenn Arnold)
9. Richmond (7-6) 109
--Wednesday at LaSalle, Saturday at St. Josephs.
--Spiders have reached 70 points exactly once this season, and it was against those free spirits at VMI. (Matt Bonesteel)
10. American (8-7) 89
--Saturday at Lehigh.
--Loses at Brown? Apparently the Pizzitola Memorial Sports Center (capacity: 2.800) is a more intimidating venue than the Comcast Center. (Max Wass)
11. Old Dominion (7-8) 68
--Wednesday at unranked Towson, Saturday at Delaware.
--The Monarchs get my Feinstein Vote of the Week only because Montanans are so excited about Wednesday's matchup of former Griz coaches Blaine Taylor and Pat Kennedy, they could plotz. It's the first recorded evidence of plotzing in Montana. (David Larimer)
Also receiving votes: Hampton 31, George Washington 14, Navy 11, William & Mary 11, Morgan State 9, VMI 8, Loyola 2, Maryland women 2, Longwood 1, Mount St. Mary's 1, Randolph-Macon 1, Anthony Montgomery 1, Shaun Suisham 1, The Soft Bigotry Of Low Expectations 1.
By Dan Steinberg | January 7, 2008; 6:04 PM ET
Categories: College Basketball
Save & Share:
Previous: Gilbert's Recipe for Happiness
Next: Gibbs Leaves With Class
The comments to this entry are closed.