Local Hoops Poll Week Nine: .520 = Hot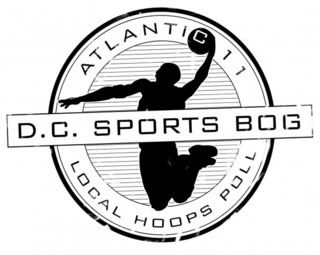 As has often been noted, it's been a tough few months for our locals, what with those losses to Binghamton (GW) and Ohio (Maryland), Georgia State (George Mason) and Xavier (Virginia, by 38, no less). But things seemed to turn a metaphorical corner while only briefly going up on the metaphorical curb this weekend. Yes, the 27 D.C., Maryland and Virginia men's teams decided that sub.-500 was no way to go through life. By my calculations, those schools compiled a joint record of 13-12 over the weekend. Rejoice.
The AP ranks 'em like this: Georgetown (5th). Yup, that's still it. Free t-shirts to the next school that receives an AP vote. Not counting Feinstein's ballot. The coaches rank 'em like this: Georgetown (6th). No one else received votes. I'm supposed to go to the best Local game every Saturday from here on out; I guess that means 11 weeks of Georgetown.
The RPI's Top 7 would go like this: Georgetown (22nd and rising), George Mason (62nd and falling), Virginia (65th), VCU (67th), Virginia Tech (91st), Hampton (94th), UMBC (123rd). Can't even keep seven schools in the Top 100. Maryland is 129th. Georgetown is close to mathematically wrapping up the final Atlantic 11 title.
Results and pith after the jump. Pith this week chosen by Comcast SportsNet Super Producer Andy Siegel.

1. Georgetown (13-1) 670 (67)
--Tonight at Pittsburgh, Saturday vs. Notre Dame.
--After Saturday's game-winning three-pointer, Isiah Thomas considers drafting Roy Hibbert. As a shooting guard. (Eric Swensen)
2. Virginia (10-4) 523
--Wednesday vs. No. 5 Virginia Tech, Saturday vs. Boston College.
--I just want UVA forward Meyinsse to make it to pro ball and end up on the same team as former UCLA forward Dijon Thompson, and then be the first person to make a dijonaise joke. (Markus Videnieks)
3. VCU (11-4) 509
--Wednesday vs. Delaware, Saturday at unranked Old Dominion.
--Rams are just like John Edwards: a former contender with name recognition hoping that a strong showing in the South will keep their hopes of a nomination alive. Also, they have impeccable hair. (Jamie Paquette)
4. George Mason (11-5) 465
--Thursday at Hofstra, Saturday at No. 6 James Madison.
--Is it too late to count Delaware as a local team? (Max Wass)
5. Virginia Tech (10-6) 344
--Wednesday at No. 2 Virginia, Saturday at Georgia Tech.
--Earned impressive win last week by thumping Charleston Southern. Also beat Maryland. (Greg Cota)
6. James Madison (10-5) 296
--Wednesday at unranked Old Dominion, Saturday vs. No. 4 George Mason.
--Dukes cannot overcome William & Mary's dramatic homecourt advantage in Williamsburg, the town where CAA title dreams go to die. (Bill Fitzgerald)
7. UMBC (11-6) 254
--Wednesday vs. Hartford, Saturday at Binghamton.
--When I used to hear 'Retriever,' I'd think of a dog that brings back birds or other prey to their hunter without damage. Now, I think of the best college basketball team in Maryland. (Cole Wilson)
8. Maryland (10-7) 210
--Tuesday vs. Wake Forest, Saturday at North Carolina.
--If only the writer's strike could cancel the rest of the season. I never though I would say this, but I miss Exree Hipp. (Matt Mandel)
9. American (9-7) 110
--Wednesday at Bucknell, Saturday vs. Colgate.
--No, you aren't hallucinating: The Eagles have a better RPI than Kentucky. (Matt Bonesteel)
10. Richmond (8-7) 80
--Wednesday vs. St. Bonaventure, Saturday vs. La Salle.
--The embarassment of finishing 11th or lower in a league called the Atlantic 10 should be motivation enough for the Spiders. (Sean McLernon)
11. Hampton (7-6) 55
--Tonight vs. Florida A&M, Saturday at South Carolina State.
--
Also receiving votes: George Washington 43, William & Mary 40, Old Dominion 23, VMI 19, Morgan State 12, Navy 2, Towson 2, Longwood 1, Mount St. Mary's 1, Norfolk State 1, Maryland women 1, George Washington women 1, Mary Washington women 1, Andray Blatche 1, Brett Favre 1, Terrell Owens's tears 1, Pikachu 1.
By Dan Steinberg | January 14, 2008; 7:03 PM ET
Categories: College Basketball
Save & Share:
Previous: Nolan Smith: "That Guy Fell"
Next: Wiz Win Streak
Posted by: KC in DC | January 14, 2008 9:08 PM | Report abuse
Posted by: Nancy | January 14, 2008 11:17 PM | Report abuse
Posted by: Andy | January 15, 2008 1:05 PM | Report abuse
Posted by: Bill Fitzgerald | January 15, 2008 2:17 PM | Report abuse
Posted by: Arlington Pimp | January 15, 2008 4:29 PM | Report abuse
Posted by: JL from afar | January 16, 2008 5:22 PM | Report abuse
Posted by: Jan | February 28, 2008 12:49 PM | Report abuse
Posted by: Max | March 16, 2008 1:53 PM | Report abuse
Posted by: Simon | March 19, 2008 11:02 AM | Report abuse
Posted by: Alfred | March 19, 2008 11:20 AM | Report abuse
The comments to this entry are closed.