Local Poll Week 11: Super Showdown Week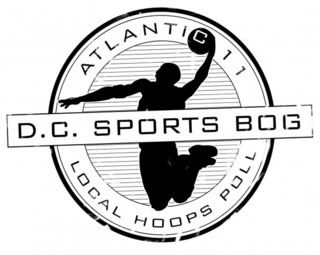 Forget last week. Last week was blah. This is the week on which coaches careers will be made and seasons defined, providing you're defining your season by how you perform against other schools in a two-state-and-one-district region. The schools in the top six are playing three games against each other this week! And I'm trapped in Arizona, taking pictures of Junior Seau's hat!
After a nice long run, cratering James Madison falls out of the Atlantic 11, replaced by in-again-out-again in-again-out-again Richmond. Virginia, last place in the ACC, also dropped two spots. Barely anything else changed.
The AP ranks 'em like this: Georgetown (6th), VCU (one vote), marking the second week in a row all our non-Georgetown schools combined for one vote. The coaches rank 'em like this: Georgetown (6th). No one else received votes.
The RPI's Top 7 would go like this: Georgetown (9th and still rising), VCU (57th), George Mason (60th), Virginia Tech (70th), Maryland (83rd), Virginia (108th) and Hampton (111th). Not horribly different from us. GW is 215th, seven slots ahead of VMI.
Results and pith after the jump.
1. Georgetown (16-2) 590 (59)
--Wednesday at St. John's, Saturday vs. Seton Hall.
--Rallied to beat the Mountaineers, disappointing all those West Virginians who drove their homes out to see the game. (Max Wass)
2. VCU (15-4) 506
--Tuesday at No. 4 George Mason, Saturday vs. Towson.
--Rams, Patriots to stage reenactment of Super Bowl XXXVI at halftime of their game on Tuesday. (Matt Bonesteel)
3. Maryland (12-8) 413
--Wednesday vs. No. 6 Virginia, Saturday at Georgia Tech.
--Greg Paulus flopped during post-game handshakes. (Scott Allen)
4. George Mason (14-6) 375
--Tuesday vs. No. 2 VCU, Saturday vs. James Madison.
--Vladimir Kuljanin and UNC-Wilmington beat Vlad Moldoveanu and GMU. No word yet on the hypothetical matchup of Vladimir Putin vs. Vlad the Impaler, but I predict Ditka by a field goal. (Paul Campbell)

5. Virginia Tech (12-8) 362
--Tuesday vs. Florida State, Saturday vs. No. 6 Virginia.
--For next game agianst BC, Tech cheer sheet will include instructions to chant "Hall is Better" every time Eagles' John Oates touches the ball. (Jamie Paquette)
6. Virginia (11-7) 258
--Wednesday at No. 3 Maryland, Saturday at No. 5 Virginia Tech.
--The Cavs are on such a bad run that they head into College Park at the risk being mistaken for some minor-conference team playing a guarantee game. At least that's what they're hoping. (David Larimer)
7. UMBC (13-7) 226
--Wednesday vs. Albany, Saturday at Vermont.
--I don't know what's more surprising -- the fact that two talented transfers from JMU are leading a basketball renaissance at UMBC, or the fact that there were, at some point, two talented basketball players at JMU. (Sean McLernon)
8. Hampton (11-6) 198
--Tonight vs. Morgan State, Saturday at Norfolk State.
--Three Bog-eligible HBCUs are have a combined 15-2 conference record and are 1-2-3 in the MEAC. Does Spike Lee have to come down and talk to you guys? (Jarrett Carter)
9. Richmond (10-8) 76
--Wednesday at Rhode Island, Saturday at Charlotte.
--Forward Oumar Sylla is not nearly as intimidating as his cousin, God Sylla. (Markus V)
And a bonus!
--Richmond forward Oumar Sylla is a terror in the lane, but he was twice as effective with his high school teammate, Joe Charybdis. (Bill Fitzgerald)
10. American (11-9) 47
--Wednesday vs. Navy, Saturday at Lafayette.
--After eighth straight loss to Holy Cross, Eagles are looking to schedule different Holy teams next year. Toledo are Crud among the front runners. (Michael Palan)
11. William & Mary (10-9) 44
--Wednesday at James Madison, Saturday vs. UNC Wilmington.
--Contrary to widely held belief, William and Mary's Kaplan Arena is not named for standardized testing guru Stanley Kaplan, but rather Gabe Kaplan, who won the arena in a high-stakes poker game from College President Gene Nichol. (Bill Fitzgerald)
Also receiving votes: James Madison 29, Old Dominion 28, Loyola 27, Morgan State 15, Navy 3, Towson 3, VMI 3, Howard 2, Norfolk State 2, Liberty 1, Mount St. Mary's 1, Maryland women 1, Gonzaga College High School 1, Gregg Williams 1, Dan Snyder's hiring skills 1, Tiger Woods 1, Alex Ovechkin 1, Other 1.
Yes, some voters should probably be disenfranchised, but I just don't have time right now.

By Dan Steinberg | January 28, 2008; 8:07 PM ET
Categories: College Basketball
Save & Share:
Previous: Belichick on Brady
Next: Junior Seau's Hat
Posted by: JDP | January 28, 2008 9:40 PM | Report abuse
Posted by: sitruc | January 29, 2008 2:08 AM | Report abuse
Posted by: Lindemann | January 29, 2008 8:31 AM | Report abuse
Posted by: nate | January 29, 2008 8:58 AM | Report abuse
Posted by: Chris | January 29, 2008 9:12 AM | Report abuse
Posted by: Markus V. | January 29, 2008 9:49 AM | Report abuse
Posted by: Duffman | January 29, 2008 10:13 AM | Report abuse
Posted by: 123 | January 29, 2008 11:55 AM | Report abuse
Posted by: Anonymous | January 29, 2008 2:40 PM | Report abuse
Posted by: Arlington Pimp | January 29, 2008 5:01 PM | Report abuse
Posted by: coast2coast | January 30, 2008 10:54 PM | Report abuse
The comments to this entry are closed.