Media Costumes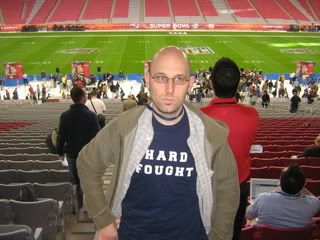 Jeez, all you ever hear about is how crazy crazy crazy media day is, all the people acting like freaks and dressed like chickens or whatever. So I thought I'd be comparatively tame in my "Television Blogger" costume, but honestly I'm probably leading the league in costumes right now. I better see a chicken within the next 15 minutes.
By Dan Steinberg | January 29, 2008; 11:54 AM ET
Categories: Media
Save & Share:
Previous: Kellie Pickler and Terry Bradshaw
Next: Pats Media Day: Astrologists and Wedding Dresses
The comments to this entry are closed.