More Famous People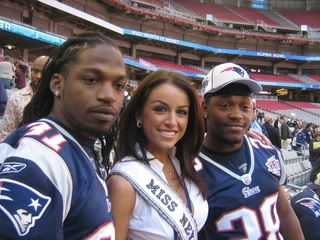 Sure, there are famous people everywhere in the media center. Brandon Lloyd reportedly made the rounds this morning. So did Adrian Peterson and his dad. The good Adrian Peterson. Warrick Dunn is out there right now. So is Brett Favre. And Mike Ditka. Archie Manning. Bryon and Byron Westbrook. Drew Brees. Larry Johnson. Shannon Sharpe. And Miss Nevada USA 2008. And Andy Pollin.
But what are you really going to ask them? Hey Brett, are you going to play next year? Hey Andy, are you going to talk about the Caps more? Hey Brandon, are you gonna rock "I Get That Chedda" at your show on Friday night?
I don't know. I just want the parties to start. In the meantime, her's a reader response to last night's massive win by Local No. 4 George Mason over Local No. 2 VCU, which is gonna really scramble things up in the Atlantic 11:

If you weren't too busy with the paragon of sports media (Woody Paige) to catch the game, you might have noticed the lack of creative costumes (Georgetown), empty seats (American) or sweaty coaches (you know who). What you would have noticed was two freakin' thousand screaming, gold-clad Mason fans. We set a new student attendance record last night, 2,076, and it showed. As a funny sidenote, if you had been to the game, you would have also noticed that one of your favorite characters (Doc Nix) was joined on the court by our campus priest, Father Peter Nassetta, who borrowed his hat and cane, and led a few songs.
Sigh. The George Mason campus priest rocking with the pep band while carrying a pimp cane, and I'm in Arizona watching Brett Favre playfully banter with Steve Mariucci on the television.
By Dan Steinberg | January 30, 2008; 3:55 PM ET
Categories: Media
Save & Share:
Previous: Antonio Pierce on the Skins
Next: The NFL Experience
The comments to this entry are closed.