More Hoya Costumes: A Banana and Scooby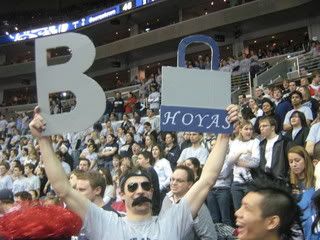 This is a true story. I was walking out of some Verizon Center tunnel on Saturday afternoon, minding my own business, when some Hoya types recognized me and shouted out that I needed to take pictures of them at Monday's Syracuse game. Why? Because they were going to be in costume, of course.
"Next game I'm bringing a king costume!!!!" the first kid shouted. "With a crown and a scepter and the tights and everything!"
"I'm bringing a Reno 911 costume, with the shorts, with the shorts," his buddy shouted.
And so I left the arena with "the shorts, the shorts" echoing in my skull, again musing about Georgetown fans, college basketball and costumes.

Now I make no claims that Hoya types are unique in their love of the costume, or that their costumes are more plentiful or superior in design to those at other college basketball games, or other sporting events more generally. Still, I've been to three Georgetown games in the past two years, and I've now seen a banana, a Scooby Doo, a Fred (from Scooby Doo), three Zoot Suits, a Pikachu, a cow, a parrot, a chicken, a devil, an angel, a Superman, a Mexican wrestler, an Alexander Hamilton and a Thomas Jefferson. And I've written about all this here and here and here, to the point that if you google "Georgetown costumes," the top two returns are this very blog.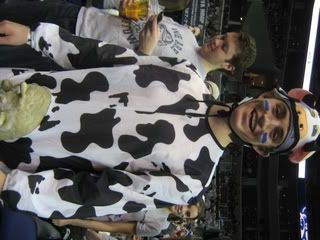 The reason is, there is no reason. We'd all, deep down, like to grow mohawks and dress like wildfowl while wearing fake mustaches at our jobs; for many of us, such behavior is considered slightly gauche. Even at sporting events, the majority of student fans do nothing more than a few demure stripes of face paint under the eyes; "look at me," they seem to be saying, "but no need to look too long." But then there are those who relish the stares, the chance to say "Life, I know you're gonna one day claim the part of me that wants to wear this banana costume, but right now it still burns with the force of five or six overheated banana-nut muffins, leaking potassium in the face of those stodgy grown-ups wearing "clothes."
"You cannot climb the ladder of success dressed in the costume of failure," as Zig Ziglar put it. The costumes themselves had somewhat different thoughts.
"Why? Just don't worry about it," the cow said of his costume.
"I've got dark hair underneath because I'm from the BVIS, the British Virgin Islands," the Alexander Hamilton said. "Thomas Jefferson's from Virginia and has red hair underneath. Duh."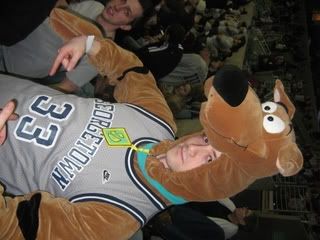 Someone pointed to Scooby Doo; "I almost wore a Scooby Doo mask myself," Alexander Hamilton said. "That would have been so embarrassing."
(I should point out that one of the Founding Fathers identified himself as the "Chairman of the SEC." Only at Georgetown.)
"Our common goal is have everyone in costumes," Scooby Doo said. "Until that happens we won't be happy. Until every single Georgetown fan is in costume, we will never have true home-court advantage."
"Georgetown's going to the Super Bowl, you can quote me on that," shouted one of Scooby's friends, identifying himself as "Scrappy." I asked what that meant.
"What doesn't it mean?" Scooby said. "That's the question."
"Super Bowl Bound!!!!" shouted Scrappy.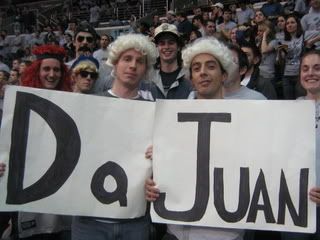 Scooby shared my fascination with this costume craze, shared my desire to see an arena filled with cows and parrots, wonder women and giant chickens, kings and cops, pirates and peacocks. I pointed to the banana and noted how much progress had been made, that I could point to any corner of the arena and find a mammal or a fruit.
"So that's, what, 5 out of 18,000?" Scooby said. "We're almost there. I've noticed a direct correlation with the rise of Georgetown basketball and the rise in costumes. We had a dark period in the '90s, because no one understood the power of the costume."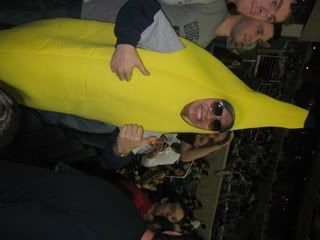 But I'd also like to note that the cow and the banana were mercilessly pummeled out of Fan of the Game honors by one Mary Travers, 71, of Prince George's County. She's one of the trio of so-called "Senior Citizen Cheerleaders" who earn massive ovations whenever they're shown on the big screen. They have a combined 23 children, and yet they still troop out to games and write signs proclaiming their allegiance, and also their ages, on file folders.
"You're not supposed to be fancy when you're a senior citizen," Mary explained. "It's a budget thing."
Mary owns Georgetown kitchen ware, a Georgetown watch, Georgetown shoelaces, a whole room worth of Georgetown posters, Georgetown sweatshirts and sweatbands and a Georgetown shower curtain, among other Georgetown items.
"We want everyone to know that it's ok to be senior citizens, and we're proud senior citizens," she told me. "Once you're a loyal Hoyas fan, you're always a loyal Hoyas fan."
I thought about telling her that if she really wanted to be a loyal Hoyas fan, by rights she should have been dressed like a grapefruit or a papaya or something, but I restrained myself.

By Dan Steinberg | January 22, 2008; 4:15 PM ET
Categories: College Basketball
Save & Share:
Previous: Ovechkin-Green Price is Right
Next: Local Hoops Poll Week 10: Suspended Animation
The comments to this entry are closed.