New Jack City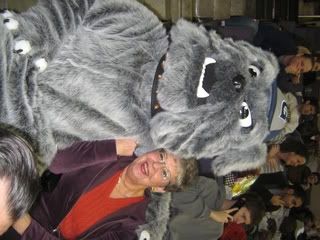 Week Two of the New Jack Era tipped off around 11 a.m. today, when Georgetown's fresh-faced bulldog mascot -- teeth bared, eyes crossed, gray fur gleaming -- emerged from the Verizon Center tunnel to commune with a fan base still warming up to his new look.
The old Jack, nearly everyone agreed, was ready to retire. His fur was worn; "a little fleabitten, shall we say," said longtime Georgetown fan Eric Siberten of the District. His jowls were judged insufficiently bulldogish. Plus, there was that odor.
"For years, the guy would go by and leave a trail behind him," said Lora Drezner of Potomac, whose second-row seats provide intimate views of the action, plus the scent of mascot aroma.
The New Jack required a half-dozen prototypes before a final design was chosen, at a cost in the mid-four figures. His face was meant to evoke at once the classic bulldog of the '80s, the more defined mouth of the most recent Jack (who lasted about six years), and the prominent jowls of a real-life bulldog.
"When you blend the new and the old, that's sort of what we came up with," said Andy Rowdon, an assistant director of marketing. "You'd be amazed at the level of engineering that goes into a mascot."
(Rowdon also said that the feedback the athletic department has received has been overwhelmingly positive, stuff like this notwithstanding.)
(The primary complaint I heard was that New Jack might scare children, although some parent-types I talked with said they had seen kids who seemed to like the toothy fellow.)
(Of course, the New Jack is not to be confused with Jack the Actual Bulldog, who also has been spruced up this season with the addition of a Hoyas jersey. Father Chris Steck, an associate professor of theology, bought the outfit for $25 at the campus bookstore, and it's proved quite popular with fans.

"I wouldn't want something to look 'cute' on the dog," Steck explained. "This looks athletic. It looks sporty. Although bulldogs are known to be the couch potatoes of the dog world."
The jersey is already getting a little slack, "because he's got such a big upper body," Jack Crew member Chris Seneca said, but Seneca said Jack the Actual Bulldog loves the jersey and gets excited every time he sees it.)
Anyhow, back to New Jack. The New Jack costume arrived a few months ago, but didn't make its debut until last week's Big East home opener, when many confused Hoya fans accused the New Jack of looking excessively feline.
"He stole the head of the Villanova Wildcat," complained Greg Pereira, who was wearing a plush bulldog mask at yesterday's game. "It's not intimidating in any way at all. It has a huge overbite. It needs an orthodontist. It's horrific. It needs to stop."
"I did prefer the old head; his one is too animated," said junior Teddy Siebert. "It doesn't look like we really stepped it up as a program."
Many Hoya fans, though, were considerably more upbeat. They thought the New Jack looked a bit tougher than his predecessor, more menacing, more ferocious.
"Oh wow," said Redskins rookie defensive lineman Alex Buzbee, a Georgetown alum, upon his first sighting. "He's crazy-looking. His eyes, he looks possessed. More intimidating, for sure."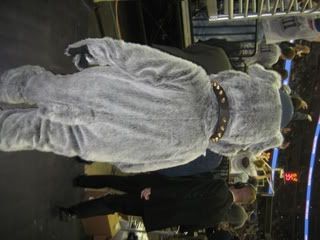 "It's a little bit nastier; there's a snarl now," senior Greg Zlotnick said.
Some fans admired his lustrous coat -- "I think the student body's going to be a lot more likely to stroke Jack as he walks past," pointed out senior Ben Shaw, an enthusiastic New Jack backer -- while others said they were fine with any Jack, as long as he didn't obstruct their view of the game.
"We come here more to watch the games than to worry about what Jack looks like," said '04 grad Lawrence Kelleher. "It's better than an Orange going across the floor, I can tell you that."
(Check back later for an update on Hoyas costumes.)
By Dan Steinberg | January 19, 2008; 6:01 PM ET
Categories: College Basketball
Save & Share:
Previous: Pecherov's New Nickname
Next: Hoo Wants Chicken?
The comments to this entry are closed.