NFL Mullets and Media Mullets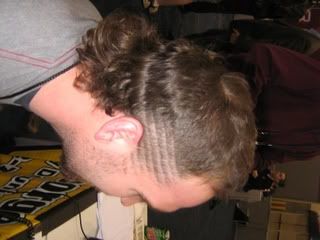 Everyone on Radio Row is selling something. Everyone. Soup, hydration beverages, mobile content, financial planning companies, video game consoles, sneakers, gloves, athletic apparel. You name it, there's a famous or semi-famous person selling it.
"Guys don't come here just for the hell of it," said Dorsey Levens, who is now a radio host. "Why? We're in Arizona? There's so many things to do."
Better than talking to Andy Pollin? So anyhow, everyone is here to sell. Well, everyone but Jared Allen. The Chiefs sacking guy is wandering around doing interviews without one of those ubiquitous handlers with the schedule and the frowny face telling you that sorry, Maurice Jones-Drew simply must get to his next interview/soup commercial. Jared Allen had no handler, which was confusing. I asked what he was selling.
"I don't sell [bleep]," he said, which is enough to get him excommunicated from Super Bowl facilities in my opinion.
What he can sell, though, is his mullet, a sculpted treat that boasts 15-and-a-half tracks shaved into the sides. To be honest, it's hard to see the half--"there's a little one over here," he said helpfully--but this is actually a professional job.
"I started out doing it myself, but the barber, they cut a better mullet," he said.
Nearby sat FoxSports.com's Alex Marvez, whose mullet is the only competition for Allen's in the room. Allen's growth is due to a bet; Marvez has rocked the mullet for years as a style statement.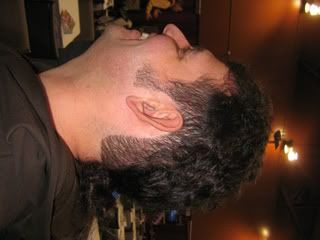 "The plumage kicked back in '97," he said.
I told him he should shave a track in the side of his head after every good story he writes. He said he was already following that policy, which was a good line.
Anyhow, now that there were two glorious and full-fledged mullets in the same media room, I needed someone to tell me which was the best. The natural judge was Miss Nevada USA 2008. So, Miss Nevada USA 2008, whose mullet is better?
"Nobody has a better mullet," she said decisively. "Mullets aren't a good thing." I argued that maybe Jared Allen and Alex Marvez wanted to stand out from the crowd.
"But you want to stand out in a good way," she said.
(Also, Matt Hasselbeck posed for a photo with Miss Nevada USA 2008, who continues to dress as if we were in Tahiti.
"Thaaaaat could get me in trouble," Hasselbeck said as he walked away.)
By Dan Steinberg | January 31, 2008; 2:41 PM ET
Categories: Media
Save & Share:
Previous: Troy Vincent on the Skins' Coaching Search
Next: I Teach Stacy Keibler the Ickey Shuffle
Posted by: DevilGrad | January 31, 2008 2:48 PM | Report abuse
Posted by: Miss Nevada | January 31, 2008 3:07 PM | Report abuse
Posted by: pusher man | January 31, 2008 3:16 PM | Report abuse
The comments to this entry are closed.