Pats Media Day: Astrologists and Wedding Dresses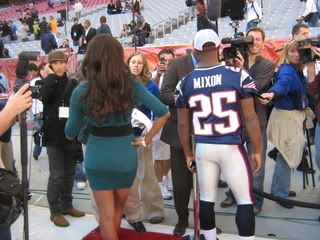 Part I of Media Day ("Presenting, the New England Patriots") is over. The media are being herded to brunch. "The worst of pack journalism," some middle-aged gentlemen spat out as the media were led out of the stadium.
How anyone could say that following an event that featured a talking monkey, a bride-to-be, Miss Nevada, an astrologist, Deadspin's Will Leitch in close proximity to ESPN's Chris Berman, a 10-year-old journalist, a Deal or No Deal model wearing clothing that would not have covered a 10-year old journalist while escorting players down a red carpet, Kellie Pickler tossing a football and various professional football players talking at enormous length about their beards is just beyond me.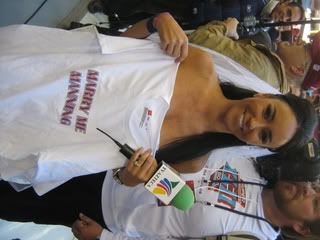 Media Day has a reputation for being passé; yeah, it's weird, we all know, let's move on. But in person, it's rather glorious, all the camera persons jostling you as they attempt to get valuable footage of Pickler--the former American Idol contestant--interviewing and being interviewed by Entertainment Tonight talent.
"Are you ready for the red carpet?" Kellie asked.
"It's MY red carpet," the Entertainment Tonight talent said.
"I didn't mean to walk on it," Kellie said.

Right behind them Pats running back Laurence Maroney was holding court while wearing Reeboks with the Kool-Aid logo. As you might recall, he has something of a fixation with the beverage, from the truck logo to the large medallion to the tattoo on his left arm and the matching hoodie.
"From what I understand, the brother went outside in his backyard when he was younger, there was a fire somewhere, he got a pitcher of kool-aid that had a lot of sugar in it, and he poured it on the fire and you know, the sugar, whoooo, and it burned his eyebrows," explained Pierre Woods. "So that's how he got the name kool-aid. That's the understanding I have, but you better ask him."
So we asked him, and he said he didn't know. I asked about an endorsement deal; "I ain't never think about it," he said. "I just be worried about football right now, all the off the field stuff I can worry about later." And his favorite flavor?
"All of 'em, if you make it right," he said.
If you make it right? How do you make kool-aid right?
"Water and sugar," said the kool-aid savant.
Then Maria Menounos approached to ask Maroney about TD celebrations. He said he and Randy Moss had pledged to do all old-school dances, but the pledge fell apart.
"It was the tootsie roll against the Giants the last week of the season but after that if failed, we stopped doing it," he said. "Basically you can go out there and do what you want."
I asked Menounos, who was wearing a Tom Brady jersey, how she would celebrate a Super Bowl win.
"If I won the Super Bowl I think my dance would be pretty hideous," she said. "It wouldn't look pretty, I'd be crying screaming laughing cheering all at the same time. It would be a pretty ugly dance. I don't even know how to do the tootsie roll. Do you know how to do the tootsie roll."
I do not. The Giants are calling us down on the field so the rest will have to wait for later, I suppose. Just no that as Tom Brady was wrapping up, he urged his interrogators to watch "The Inconvenient Truth," as he called it. Then he said he drives a hybrid.

By Dan Steinberg | January 29, 2008; 1:54 PM ET
Categories: NFL
Save & Share:
Previous: Media Costumes
Next: Giants Media Day
The comments to this entry are closed.