Phil Bender at AU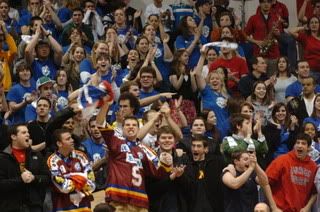 A season-high 3,994 fans came to Bender Arena yesterday to watch American face its Purple Whale. The Eagles had lost seven straight to arch rival Holy Cross, 13 of 16 overall. The particularly tortured fans still remember 2002-2003, when the Crusaders knocked American off in consecutive Patriot League finals.
But that rivalry wasn't the only reason a hyperactive student contingent play-acted at high-major fanaticism throughout a back-and-forth thriller that saw eight ties in the final 18 minutes. The rivalry alone couldn't explain the soccer chants washing over the crowd, the two fans in the front row waving Czech national flags like it was 1989, the "Go Eagles!" rally towels and the AU foam fingers. Why such spirit? It was Phil Bender day.
Many of the students weren't quite sure exactly who this Phil Bender fella was; he must have donated the money that paid for Bender Arena, several surmised.
And so it was left to a lowly blogger to deliver the stunning truth. The "Phil Bender" moniker was birthed by a group of pun-loving students six years ago in an effort to turn one game a year into an event. Their imaginary Phil came with an imagined caricature of a short, chubby bald guy. The arena, sad to say, was funded by Howard and Sondra Bender and named after Howard's father. Who was named Jack.

"Wait, there's not a Phil Bender? Goodness gracious," freshman Ben Corson said.
"I don't believe you," sophomore Josh Cook said.
"Jack Bender? That's pretty lame," junior Matt Wilson said.
"I feel like I've been lied to all these years," junior Jesse Goldberg said.
"My world's been turned upside down," freshman Josh Linder said. "Did he have a brother named Phil?" he asked, hopefully.
Not that we know of, but that hasn't stopped Phil Bender from becoming Tenleytown's Super Bowl, complete with celebrity appearances (a halftime hand wave from national champion wrestler Josh Glenn), corporate largesse (free smoothies from Robeks and free quesadillas from Guapo's), extraneous rabble-rousers (activists handing out fliers in favor of Barack Obama and opposed to global warming) and a crowd nearly 100 percent larger than this season's previous high.
(The event has even spread to other American teams at other venues. The field hockey and women's lacrosse teams play "Phil Jacobs" games at Jacobs Recreational Complex, and the men's and women's soccer teams play "Phil Reeves" games at Reeves Field. And no, American does not have a wealthy benefactor whose last name is McCracken, but thanks for asking.)
Last year's Phil Bender drew 4,775, an arena record that surpassed Bender's seated capacity. Students sport "I Did Phil Bender" t-shirts and refer to the day as "State School Saturday," because of the one-weekend spike in a particular strain of face-painting, foot-stomping, profanity-chanting school spirit.
"Sometimes we have a bit of trouble filling up all the stands; during Phil Bender we just hope we don't break the fire codes," said Josh Kaplan, a leader of the Blue Crew student fan group. "It's kind of legendary."
"The school is so small that everything you do revolves around yourself," argued Brad Dragoon. "This is the one thing at this school that's bigger than the individual."
"Everyone comes to Phil Bender; I've had this on my calendar since September," agreed another student, who declined to provide her name because her sorority does not permit sisters to be quoted in the media.
(Yes, that's right, a college student requested to be quoted anonymously by a blogger writing an item about a basketball game named after a person who never existed. Only in Washington. Is it 2009 yet?)
And yet, despite the fan support, Phil Bender has often ended as it did yesterday, with students staring blankly at the emptying court, longtime fans throwing up their hands in frustration and the Eagles walking off the court with their heads down. Holy Cross--which has provided the opposition for all but one Phil Bender--eked out a dramatic two-point win after Andrew Beinert connected on an off-balance jumper with 18.5 seconds left.
Students offered various theories for why Phil Bender is so well attended and why other games are not, but trying to explain the success of a made-up celebration for a made-up man is perhaps besides the point.
"No matter how they do it," Cook said, "they trick us into one day of school spirit a year."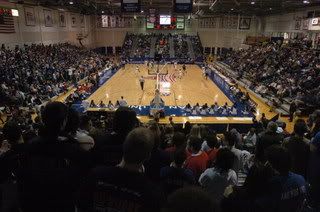 By Dan Steinberg | January 26, 2008; 5:35 PM ET
Categories: College Basketball
Save & Share:
Previous: Caps and Gluttony
Next: I'm at the Super Bowl
Posted by: KC in DC | January 26, 2008 6:08 PM | Report abuse
Posted by: JDP | January 26, 2008 6:37 PM | Report abuse
Posted by: AU Fan In Arlington | January 26, 2008 6:41 PM | Report abuse
Posted by: R | January 26, 2008 11:11 PM | Report abuse
The comments to this entry are closed.