Redskins Go Fishing
The attitude at Redskins Park is: relaxed. Another walk-through-like afternoon, following on the heels of yesterday's Walk-Through Wednesday, after which Joe Gibbs had said the following:
"They just want to be in pajamas, show up and draw some stuff on the ground," Gibbs said, according to Rick Snider. "We'll probably show up Sunday for the game."
Probably! Ha! And then there are those hand-made signs around the locker room reminding the Redskins to turn in their fees for this spring's deep-sea fishing trip, right before the NFL draft. Phillip Daniels is the organizer. This is the third annual NFL group outing he's planned; the sign-up sheet went up in late December, and the takers included Keenan McCardell, Randall Godfrey, Chris Samuels, Kedric Golston, Mike Sellers, Cornelius Griffin and Lorenzo Alexander. You know, ust your normal two tons worth of pro football players in search of snapper, grouper, amberjack and trigger.
Daniels books the hotel rooms, lines up the boat, picks everyone up from the airport, and doesn't even ask for tips. I wondered whether planning for 14 NFL players to go to Mobile, Alabama and then to Dauphin Island wasn't distracting when combined with a playoff push, but he said not at all.
"I just look at the price it costs and divide by 14 people," he said. "It's easy. No distractions."
Me, I get easily distracted, and so I began wondering who might be the best fisherman out of that lot.

"I'm the best, of course," Daniels said. "Who put the trip together? That's who the best. Randall Godfrey won't argue with me."
"I usually put on a show. I put on a clinic," Godfrey said. "Phillip most of the time always catches the largest fish, but as far as the quantity goes I'm there right on top."
"I already did my research; the only person I'm worried about is Randall, because he's an outdoorsman for some reason," McCardell said, while casting aspersions upon Daniels's skills. Sellers followed suit.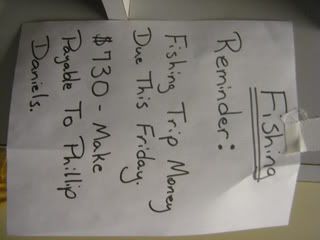 "The dude don't know how to fish," he said. "He ain't got no skills. He'll catch a little sea bass and get tired."
Anyhow, there's a cabin for card-playing, and there are early nights and early-morning wake-up calls and relaxed conversations--"it ain't gonna be [about] football, trust me on that," Sellers said. Also, there are large NFL players getting sick to their stomach.
"That's why we carry a nice group," Godfrey said. "We usually have five, six guys who go down. They have to sleep the rest of the trip....I'm expecting Griff [to get sick]. You can't really tell if he's seasick, he never throws up, but he sleeps A LOT."
But most of these guys have some experience with deep-sea fishing, so maybe that won't be an issue. In fact, McCardell previously went out in the salty stuff with some Jacksonville Jaguars teammates. Once, they caught a shark.
"I don't need to catch any more of those; it's not fun when they get in the boat," he said. "The captain had to kill the shark. He said, 'It's a shark,' and it was like 'Whoa!' We pulled it in and it was chaos on the boat. The shark caused chaos and we all left. Me, Jimmy Smith, a bunch of Jacksonville players. We cleared the boat basically. If it was a safe place to jump, we would have jumped. Seriously. I'm telling you, that's probably what's gonna happen if we get a shark in the boat this year."
Hang on, I said. Mike Sellers isn't jumping away from any shark.
"Whatever," McCardell said. "I don't care what nobody says. They can say whatever they want, try to be cool and all that. Go ask him."
So I did. Any thoughts on sharks?
"Oh, that's sushi, that's all that is," Sellers said.
"Whatever," McCardell said.

By Dan Steinberg | January 3, 2008; 1:29 PM ET
Categories: Redskins
Save & Share:
Previous: Seattle Already Raising the Flag
Next: Redskins Insulting Each Other
The comments to this entry are closed.