Reporter in Kilt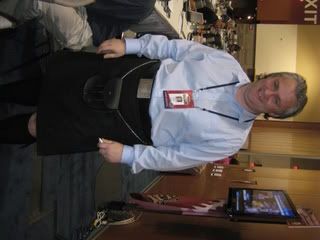 Everyone who shows up on radio row is promoting something. Like, yesterday, Brian Westbrook and Drew Brees and Adrian Peterson were making the rounds, but they were there to promote some sort of bacon cheeseburger contest they're running with Chile's. Westbrook's version is a "Smokehouse Bacon Triple-the-Cheese Burger," although I think he called it a triple cheeseburger, and I'm not sure if those are the same thing.
(The real valuable information came from Brian's younger brother Byron of the Skins, who told me that Carlos Rogers and Fred Smoot are scheduled to arrive in Arizona today. So that means B-Lloyd and Smoot will both be on the ground this week.)
You want more corporate promotion? You can go fake bowling with NFL stars, and, soon, with Mia Hamm and Nomar Garciaparra, in honor of Gatorade G2, a lifestyle beverage, said lifestyle apparently including fake bowling.
Anyhow, with the players fairly corporate-speaky or, in the case of the Super Bowl teams, an hour away, the media again stole part of the show yesterday, in the form of the Scottish Daily Record's Gary Ralston, who was wearing a kilt in honor of the Super Bowl and Lawrence Tynes. Here was the highlight of his discourse, which ought to be watched in full after the jump.
I think Quasimodo could form some interesting relationships with some goodlooking women if he put on a kilt. I don't know what it is. One of my friends wore a kilt once and a girl put her hand up the kilt.

"Aw," she says, "that's gruesome."

"Well, can you put your hand up again," he says, "because it's just grew some more."
Ah, the Super Bowl.

By Dan Steinberg | January 31, 2008; 10:58 AM ET
Categories: Media
Save & Share:
Previous: Jim Fassel Drinks Decaf
Next: The Captain of the ASU Cheer Team
Posted by: ScottVanPeltStyle.com | January 31, 2008 11:12 AM | Report abuse
Posted by: Anonymous | January 31, 2008 1:30 PM | Report abuse
The comments to this entry are closed.