Sellers and the 12th Man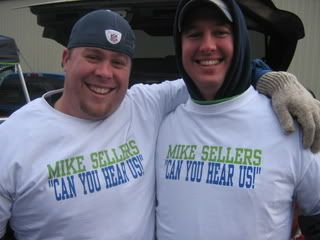 Seriously, you'd think that Mike Sellers said all Seattle residents are flannel-wearing coffee-drinking guitar-rock playing job-shirking pot-smoking ruffians. I mean, people out here in the one tailgating area are fired up, ready to go. And why? Because Mike Sellers hinted the crowd noise was fake? That's all it takes?
"Mike Sellers, Can You Hear Us!" read the shirts some guys are wearing.
"It's the dumbest thing anyone could have done," said Hayes Mitchell, one of the shirt wearers.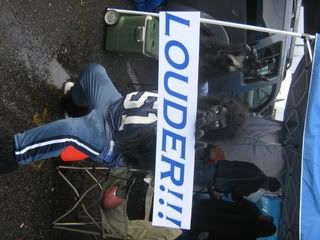 "67,000 people just turned into 120,000, that's exactly what he just did, added Nick McKenty.
To get prepared, the Hawks fans are blowing on long green horns, screaming through green megaphones, pressing on airhorns, and screaming "booooooo" at me for having the temerity to walk around with a guy in a burgundy jersey. Also, they're yelling "Foreskins" a lot. That seems to be popular.
There's an ape, of course, It wouldn't be an NFL game if there weren't a guy wearing a jersey over an ape suit. He jumps around and makes monkey noises when Redskins fans walk past.
"We heard what Sellers said," the ape told me. "This is what I've got to say about that," he said, breaking out his "LOUDER!!!" sign. "It'll be louder than it's ever been today. You're gonna see the monkey running in the aisles.
"Thank you Mike Sellers, thank you Mike Sellers," his friend was shouting in the background. "Thank you for the late Christmas present."
For the record, I'm hiding from the rain in the front seat of the truck hosting the one Redskins tailgate I've found. There's a lot of booing around. The fans are calling this FedEx West, which is probably an overstatement.
But back to the Seahawks fans. They're obsessed with 12. There are 12 flags, 12 jerseys, 12 football helmets, 12 baseball caps, 12 sweatshirts, 12 banners, salesmen with 12 t-shirts and 12 dolls that wiggle their little 12 hips. I find this all unseemly, seeing as how Texas A&M has trademarked the whole 12th Man thing. But the 12 does offer an interesting counterpoint to the 21 stuff at the Skins event.
"Qwest Stadium is the loudest of any NFL stadium," one Seahawks fan told me.
"Who told you that?" I asked.
"The news," she said.
Like you can trust the news.
By Dan Steinberg | January 5, 2008; 1:37 PM ET
Categories: Redskins
Save & Share:
Previous: The Wind in Seattle
Next: Fans Heckling Sellers
The comments to this entry are closed.