Super Swag

With the Giants not arriving until later this afternoon, the Arizona civic dignitaries not speaking for another hour and Michael Irvin still deep in the middle of his radio show and unable to field inquiries, there's really not much to do right now. Options:
1) Pizza by the slice.
2) Take pictures of giant Tom Brady banners.
3) Go to a Super Bowl Souvenir shop as the wares are being unloaded from boxes, and take a nice long look at stuffed Super Bowl scorpions and stuffed Super Bowl tarantulas, glittery blue t-shirts "for her" (and "for $35"), five different colors of commemorative footballs (black, cream, blue and maroon, pink and dead animal), golf towels, tailgate towels, beach towels, infant booties and the most hideous leather jacket you've ever seen. Much of the packaging carries the phrase de jour, "Who Wants It More?"
4) Go get your complimentary bag of media goodies from the host committee, which includes a stuffed animated football with legs and arms.
5) Read Bill Belichick's comments about the media, made during his presser last night:
"I respect the job that you do and hope that you respect the job I do. I understand that sometimes I can't give you everything that you are looking for, but I do know that this is the conduit of information from the team to the fans and the fans are what drive the game. I'm all for it. Nobody is more in favor of this game than I am."
6) Head back to the Michael Irvin radio show set, where three buxom young ladies were being interviewed by Irvin and his co-host, and attempt to overheard the questions, quickly writing down in your notebook "What exactly is Hooter Tape?" and "So how does one apply Hooter Tape?"
I'm being completely serious here: nothing says Super Bowl Week like Michael Irvin's radio co-host asking three young women, one of whom was literally bursting out of her clothes, for advice on how to apply Hooter Tape.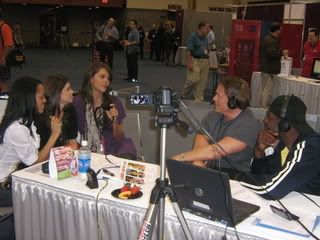 By Dan Steinberg | January 28, 2008; 2:51 PM ET
Categories: NFL
Save & Share:
Previous: Cowherd, SVP and Tirico
Next: Gregg Doyel's Mohawk
The comments to this entry are closed.