The NFL Experience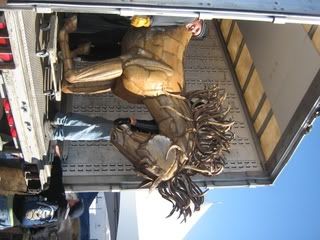 Hundreds of kids were corralled in pens this morning, waiting to be allowed to experience the NFL via the NFL Experience, built by Home Depot. The kids had been conditioned to praise their corporate masters and they responded appropriately: "N-F-L!, N-F-L!, N-F-L!" they chanted in the pens while wearing Home Depot t-shirts.
Then the kids were granted citizenship in the World State and complimentary packets of Soma, taken for a brief tour of the Ministry of Truth and granted an audience with the Great Benefactor. If you missed any of that, sign up for Dystopian Novels 101.
But I've already been accused of being too negative this week, so I'll say it was great fun, the NFL Experience. You could take a spin through the Training Camp obstacle course presented by Gatorade, learning about proper Gatorade-approved hydration techniques at the beginning and having a small pour of a recent Gatorade vintage at the end. You could participate in the Sprint Run to Daylight or struggle against bungee harnesses in SNICKERS The Drive; show off your passing accuracy at the EA Sports Big Quarterback Challenge or, if you're a smaller tyke, stop by the 3-a-Day of Dairy Kids Zone. You could further demonstrate your skills at the Xerox Touch Pass, the VISA Field Goal Kick, the Topps Quick Release, the Chevy Roll Out, or the Pepsi Punt, Pass & Kick. Even the dying newspaper industry got involved in the most appropriate way possible; the Arizona Republic was, I swear, sponsoring the "Down-and-Out" exhibit.
Sadly, some of these games permitted visitors to have fun without necessarily thinking about consumer goods, but luckily there was also the Home Depot House where the entire family could play interactive games involving plywood and screwdrivers. As the press release put it, "You can do it, we can help!"

But I'm being too cynical, especially on kids day, where NFL superstars like David Garrard, Troy Vincent, Tony Richardson, Christian Fauria, D'Brickashaw Ferguson and Eric Ghiaciuc were happily leading the kids through some drills. Ghiaciuc was helping the kids with their passing skills; "hey, I'm an athlete," he said, when I questioned his aptitude for leading such lessons.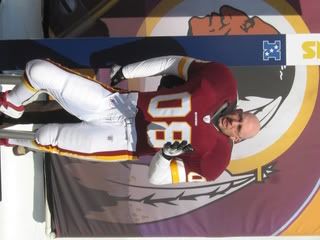 None of them were much interested in talking about their social plans this week, and some, like Vincent, said they had none. He said he'll go back to his hotel room and work on Power Point presentations. "My mom always told me nothing good happens after 11," he explained.
But I would have stayed there and successfully kicked 17-yard field goals as long as they'd have let me; there's really nothing more fun than that. And it was certainly fun seeing the giant Lombardi Trophy and the giant Ferris Wheel and the hundreds of decorative cactuses and the SpongeBob SquarePants mascot and Spike the Super Bowl mascot and some other mascots I didn't recognize and, what's this, a giant bronze horse-like sculpture being unloaded from a truck.
"I don't think you're supposed to be here," said one of the people unloading the horse-like thing, a statement with which I completely agreed.

By Dan Steinberg | January 30, 2008; 5:13 PM ET
Categories: NFL
Save & Share:
Previous: More Famous People
Next: Matt Hasselbeck's Dad on Jim Zorn
The comments to this entry are closed.