Wiz Win, With Style

Six style notes from Verizon Center, as the put-together Wizards continue cutting the NBA's best down to size in a most attractive fashion. This might not be the hottest team in the NBA, but it might be the haute-est. And so on.
1) DeShawn Stevenson once told me that he will always wear whatever sneaker Antawn Jamison wears. Good luck, you see. Well, today Jamison wore blue and white Adidas, while Stevenson went with black and gold. It seemed to work out ok.
"I don't like the blues," Stevenson explained. "The blues are terrible. I can't wear blue. We've still got the same shoe."
2) Speaking of teammates and shoes, Gilbert Arenas has been known to seek fashion advice from his next-door-neighbor in the locker room, Antonio Daniels. "The first thing he asks me when he comes in every day, he asks me if I like what he has on," Daniels said.
Well, today Gilbert showed up with some sort of beige military-style suit, and asked Daniels what he thought.
"That's not going to look good with loafers," Daniels warned.
Gilbert cursed. "You can wear mine," Daniels said, and gave him his dress shoes, which Gilbert then wore on the bench during the first half.
(Gil also has custom-made sneakers with his son's name near the toe, seen here.)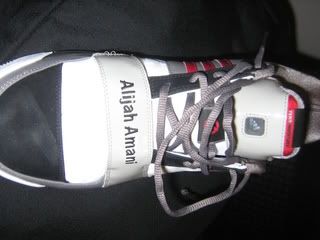 The lending out of one's dress shoes, I suggested, is the true measure of a teammate.
"Always," Daniels said.
3) Speaking of teammates borrowing each other's clothes, I asked Gilbert what he thought of DeShawn's customized bathrobes.
"Idiot," Gil said. Then, a bit later, he said he was thinking of making himself a customized gold robe.
4) Still speaking of teammates borrowing each other's clothes, Nick Young's postgame outfit featured a striped dress shirt under a large gray sweater. Gilbert's eyes popped when he saw the ensemble.

"Hey man, talk about my sweater and my shirt you've got on," Gilbert shouted as Nick did his postgame interviews. "Talk about that, how you stole it. Yeah. You ain't got no answer for that. You came in and stole it."
"How'd you notice it Gil?" Young asked, amazed. "You've got so many sweaters and shirts."
"He always takes Gilbert's clothes, he goes over to his house and takes 'em," Stevenson said.
"I took it, I went into his house and took it," Young confirmed.
(Breaking: Nick Young, not in the dunk contest. Sad.)
5) Speaking of Young, he was thrown into the cold tub in the training room on Sunday for mouthing off to the vets.
"He was talking crazy," Stevenson explained. " 'Don't come on this side,' something smart like that."
"I kind of figured something was going to happen so I tried to run to the door, but Caron sits right there so he grabbed me," Young said.
This team, apparently has a proud tradition of tossing its rookies into tubs of water; "Andray made it till April, Nick made it till January," Daniels said.
"Dominic'll probably get it done tonight and we'll get Pech sometime this week," Butler said.
"I don't get thrown in the pool," McGuire said with verve, as he strode out of the locker room. "They're not going to do it. They know who they can mess with."
"You know, you not going to do anything about zis," Pecherov said philosophically. "I'm a rookie, man. I can't complain. Everything's fine."
So I guess that's who they can mess with.
6) Speaking of mess, a few minutes later Stevenson popped on oversized sunglasses and prepared for his grand exit.
"I'm glad we play early games so I can wear my shades out," he said. "Call me Puffy Stevenson. God bless."
Then he left.

By Dan Steinberg | January 21, 2008; 5:53 PM ET
Categories: Wizards
Save & Share:
Previous: Etan Speaks to the Media
Next: Dave Hopla's Legend Grows
The comments to this entry are closed.