Another Entertaining Boudreau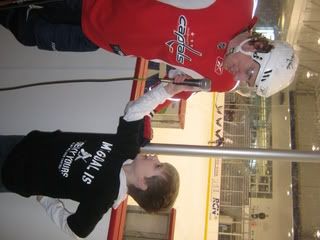 Here's all you need to know about 9-year-old Brady Boudreau: when he was younger, his parents gave him blocks as a present.
"And he painted faces and uniforms on them and made them into hockey players," his mom, Crystal, told me this week. That wooden tilt was an epic battle of red vs. blue, coached by green and officiated by yellow.
We met Brady this week, of course, when he came to Caps practice to tape one of his trademark "Kid Reporter" videos, which are shown on the big screen at Hershey Bears games. Young Brady started his talking pictures career as a 6-year-old in Manchester and then advanced (along with his father) to the Caps' minor-league affiliate in Hershey, where dad Bruce coached before arriving in D.C. Brady asks players questions, and since he's sweet and charming and his dad is in charge, the players feed him good answers, which are shown between periods at Bears games. Sometimes dad feeds him the questions, "and sometimes he makes up his own questions," Crystal Boudreau told me, "which sometimes you want and sometimes you don't."
Why not?
"He'll go up to a goalie on a losing streak and ask, 'So, what's your problem?' " Crystal offered as an example.

But the kid clearly has dad's gift of gab; Bruce said his son started talking when he picked Brady and mom up at the airport this week "and I don't think he stopped talking until we got home." Crystal said that both Brady and his father have a knack for flipping serious conversations completely around; "they're just always trying to find the humor, to lighten any situation by saying something off the wall," she said.
And they proved an excellent comedy team this week. For example, when grilling Brooks Laich, one of Brady's subjects this week. First dad began whispering questions into Brady's ear.
"What are you feeding him here?" Laich asked nervously.
"I don't even remember what you said," Brady said, at which point Bruce tried again and the gallery began to chuckle.
"No, no, don't laugh, you've got to be serious," Bruce Boudreau said. "Start off by saying 'Hey Brooks,' " which Brady did. "Now say, 'You won two Calder Cup Championships in Hershey, now what was your best time in Hershey?' " a question which Brady repeated. " 'And what was her name?' " dad then prompted Brady to add, to much laughter.
"That's an interesting question," Laich said, and considered it. "I have no comment," he decided upon. "When do I get to interview you about your girlfriends?" he later asked Brady.
Quintin Laing came along soon after and dad was again in Brady's ear. "So what happened on that open net the other night?" Brady asked, as Laing stammered.
"Tell him 'Well as long as you keep blocking shots, you're gonna be fine,' " dad said.
"You got some good stuff there, eh?" dad asked at the end, then left to fulfill his media responsibilities while Crystal told me some Bruce Boudreau facts.
Like the fact that he pretty much only eats meat and potatoes, which means nothing on the meat and nothing on the potatoes. No white sauce, no mayo, no mustard, no cheese (except on pizza, and then it can't be a plain cheese pizza), and please, no vegetables. Salad means plain lettuce with dressing.
"I think we're up to three vegetables he'll eat now; corn, carrots and green beans," Crystal said. "It's worse than teaching my son to eat, because he's an adult."
Or the fact that he's an inveterate cheater at Scrabble, swapping out letters he doesn't like and sometimes robbing used letters off the board when his wife isn't looking.
"He cheats and he still can't win," she said. "He definitely cheats."
"Only if I'm losing," Bruce later clarified. "If I'm winning there's no reason to cheat."
And yes, he talks a lot at home, just like he talks a lot in front of cameras. At a banquet once, Boudreau was handed a mic and instructed to speak for about five minutes.
"I just burst out laughing," Crystal told me. "I was like, 'you're giving him a mic and telling him five minutes?' Twenty minutes later everyone was on the ground laughing and he was done."
And the usual topic of the conversation at home? Well, dinner conversation is hockey, and night-time conversation is hockey, and telephone conversation is hockey, and when they rode home from the airport the other day Brady and Bruce did nothing but talk hockey. Brady has been asking to play in goal since the age of 3 but dad insisted he learn the fundamentals first, so this is his first season in goal.
For Brady, too, outside of his new-media career and his artwork, everything is hockey. He takes collectible hockey figurines and turns them into action figures, shedding the gloves so they can fight. All of his video games concern sports. He uses fabric markers and decorations to turn his undershirts into hockey jerseys. His parents gave him a toy truck once, but Brady never did the cars-and-airplanes thing, never played with Star Wars toys or army action figures. So he turned the truck into a zamboni.
By Dan Steinberg | February 20, 2008; 1:14 PM ET
Categories: Caps
Save & Share:
Previous: Wiz Celebrity Sightings
Next: Nats Group House
The comments to this entry are closed.