BracketRusted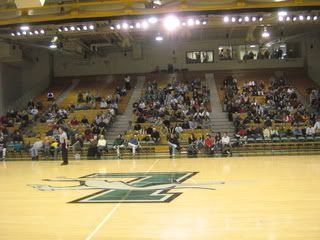 I think the BracketBuster is great. It leads to exciting dunks, late-game heroics from Booker Woodfox, Kent State claiming the biggest regular season win in its history, Kyle Whelliston on the TV tubes, and a Southern Illinois assistant talking about a big ball of gold. Good things, all. It also is at least trying to reverse the massive scheduling advantages enjoyed by the DI overlords, which is not funny but is also a good thing.
But there still seem to be small windows for dissatisfaction. I went to Loyola and UC Davis on Saturday, thinking that on paper it was the worst BracketBuster game in the land. My argument:
* According to Mapquest, which admittedly is not the best judge of flight paths, the distance from Davis to Baltimore was further than any other team's travel, beating out Rider-to-Northridge by a half a mile, but at least that game was on TV.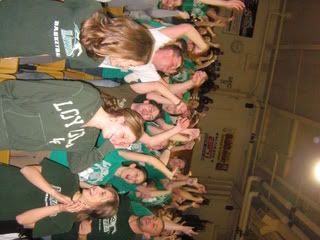 * The visiting Aggies were the second-biggest BracketBuster underdog (15-to-17 point dogs, depending on the bookie), with the second biggest RPI difference of any BracketBuster game (151).
* Davis had lost nine straight. Loyola had won 9 of 11.
* The Aggies had just eight players in uniform, which Coach Gary Stewart said was the fewest in Division I. He, incidentally, devised five criteria for a satisfying BracketBuster pairing; of the 100 teams, his squad and Long Beach were the only two that didn't meet any of the criteria.
Anyhow, I figured Loyola would win by 24. Well, despite being massive favorites, they were trailing for most of the game, and needed two clutch shots in the final three minutes to pull ahead for the three-point win. It was easily the most entertaining sporting event I've watched live in 2007, and yes, that includes the Super Bowl. I likely would have stormed the court by myself had the Aggies won. My full report can be found here. A few other observations:

* Loyola's gym is on the second floor of the school's student center. I'm not sure I've ever been to a second-story gym before.
* At the under-four media timeout, the very modestly sized Loyola pep band plays some sort of beat, and during the stanzas the student section sort of squats down while chanting "stand up" or "get up" or some such, and then in the chorus they all just start going crazy and jumping up and down. That never gets old.
* Loyola star Gerald Brown's son was wearing his dad's jersey, with "GB Son" on the back.
* Loyola Coach Jimmy Patsos said his first three preferences for his BracketBuster opponent were Bucknell, Boston U. and Loyola of Illinois. He said he also let it be known he'd be fine with Hawaii. Why? "Have you ever been there?" he asked.
* There were 1,386 fans in attendance. Exactly one had his face painted. Being one out of 1,386 is fandom.
* The school's official booster group is called The Kennel Club.

* Several of the Aggies had long hair, leading to a never-ending stream of comments like this from the Loyola students: "Not a half pipe, bra." "How 'bout that OC episode?" "Let's go, bros, it's not surfing time yet." And so on.
By Dan Steinberg | February 25, 2008; 11:43 AM ET
Categories: College Basketball
Save & Share:
Previous: Local Basketball Questions Answered
Next: Nats Flush: The Video
Posted by: Bill Fitzgerald | February 25, 2008 1:09 PM | Report abuse
Posted by: Steve | February 27, 2008 2:50 AM | Report abuse
The comments to this entry are closed.