D.C. United Is Tattooed, Hard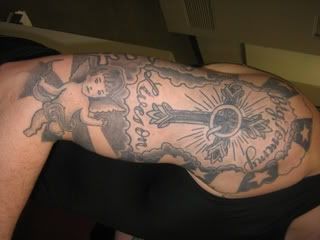 I mentioned below that D.C. United's "This is Our House!" video shoot led to no small amount of giggling from players who were supposed to be looking tough while proclaiming "RFK is our house!" But the toughness was nonetheless conveyed this afternoon via non-verbal means. Half of the current 28-man roster consists of newcomers to the organization, and the dressing room feels an NBA locker room, or maybe the green room for Miami Ink.
"The influx of tattoos? Yeah, I have noticed," veteran Bryan Namoff said.
"Oh, absolutely," agreed Devon McTavish, another holdover. "All the new players seem to have 'em. We're hard this year, man."
"We are kind of thug bone, aren't we?" added veteran Ben Olsen.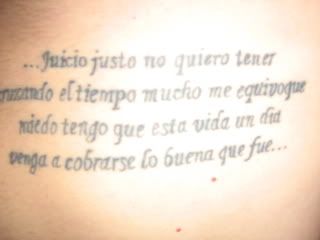 I should say that, of all the season ticket bases in this area, United's might well be the most extensively tattooed. Heck, one fan got a United tattoo as a bet, and another is a genuine tattoo artist, Bill Stevenson from the Baltimore Tattoo Museum. Stevenson was introduced to the franchise via Santino Quaranta, the one-time wunderkind who is now back in town, attempting to latch on with the club and more inked up than ever. His right arm now features a tribute to his deceased grandfather Big Tommy, an image of his daughter, the Chinese word for "family" and stars that "just go with the flow," he said.
"You can't even see skin any more," Namoff said of Quaranta's arm.
Quaranta, who happily described the new United roster as "all tatted up," has introduced several high-profile teammates to Stevenson. One client, Jaime Moreno, got some additional work done in the offseason, including his birthdate on his right wrist and stars around his daughters' names on his left upper arm. Clyde Simms, meantime, opted for a bird on his chest to "give me some motivation," he said. "I mean, who wouldn't want to be a bird?"
But the new guys were most notable. Draft pick Ryan Cordeiro has, among other things, his left arm entirely drawn in an homage to his family. Gonzalo Martinez has several tattoos, including a striking image of Hathor, the Egyptian goddess of love, on his right arm. (He got it in Naples.) Franco Niell, the Argentine striker generously listed at 5-foot-4, has an image of a gnome playing soccer on his right leg; "because the gnome is short and he plays soccer, sort of like myself," he said through an interpreter.
Star midfielder Marcelo Gallardo had a large dragon on his right arm, since, sort of like myself, he was born in the Chinese year of the dragon. But he's getting it removed, because "you go back, you repent, say I shouldn't have done that," he said through an interpreter. "The dragon ate me inside. In my inside, the dragon put me on fire. When I was a little younger, I was a little crazy."
So instead, he has an eagle soaring over some sort of village landscape on his left arm. Fellow Argentine Gonzalo Peralta has stuff everywhere, including, I believe, his knuckles, and also has rock lyrics tattooed on his midsection. The group is "La 25," and the song, he explained, "says life gives me more than I expected, something like that."
Amid this bounty of patterns and faces, the non-inked veterans decidedly stood out, arms pasty and plain, no stars or wildlife or rock lyrics or Egyptian gods in sight, just boring old skin. And a few said they were going to stay that way.
"I don't think I'm gonna get any," Namoff said. "I just can't find something that I would like 30 years from now. Maybe just 'Namoff' on the back, in case I forget my name. Maybe on my hand I should get 'Wallet, keys and phone,' so when I'm walking out the door I never forget."
"Look at me, I'm not a tattoo type guy," McTavish said. "I'm not a badass."
"IM'ing, texting, tattoos, that's so '90s," Ben Olsen said, while glancing at Quaranta. "We have to start evolving as a species."
Later, he returned to this line of argument.
"It's like the NBA in 1995," he told Quaranta. "Tattoos are so '95 NBA. Tattoos are done."
"He's jealous," Quaranta said. "He's got no room for tattoos because of the hair."
By Dan Steinberg | February 28, 2008; 4:43 PM ET
Categories: D.C. United
Save & Share:
Previous: D.C. United: This is Our House
Next: Atlantic 11 Goes TV
The comments to this entry are closed.