Diddy's Party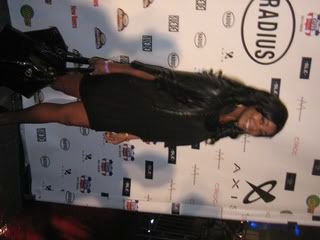 A brief rundown of what washingtonpost.com's Jon Forsythe and I did last night.
* After eating dinner at a downtown Scottsdale establishment distinguished primarily by its mechanical bull and great quantities of Giants fans, we figured we'd wander over to the party zone and take a peek.
* We quickly arrived at the EA Sports/Madden Bowl party, an event for which we had never tried to get tickets or media passes or whatever, and saw Tony Gonzalez ducking out and whisking past the autograph seekers, who were perched at several intersections last night.
* There were dozens of people who did have tickets but were being denied entrance for one reason or another, and who were thus huddled outside the front door of the Martini Ranch, waiting. At various points that group included Roy Williams of the Detroit Lions and T.J. Houshmandzadeh.
* Chris Berman, though, didn't have to wait. He appeared with Ed Werder and about four young ladies, and they were whisked inside. "I like the way you travel, Chris," the bouncer said.

* We walked past the Reebok party and over to the Axis/Radius Block Party thrown by Diddy, Nick Lachey and Jimmie Johnson. Tickets were priced from $175 - $1,000.
* We figured we'd gawk, but then we ran into, let's see, a former World Series MVP and a former NFL offensive lineman whom I know a little bit. But only a little. Still, he decided to take pity on us and so he shepherded us through the VIP line behind the World Series MVP--who parted the waters--by claiming we were his agents. Right after us came the guys from Nip/Tuck.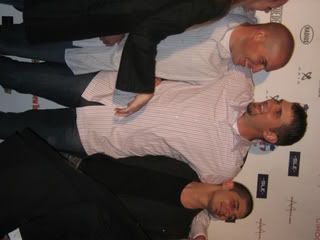 * This was only the block part of the block party, though, and we couldn't manage to get inside the party part of the block party. So we were stranded in the land of $7 Budweiser and female staffers in football jerseys dancing around poles and being rewarded with dollar bills.
* There was also a red carpet area filled with credentialed entertainment media, and so I wandered in there, since no one was asking for credentials, and began taking red carpet photos. I had the smallest camera by about a factor of seven.
* Look, Nick Lachey! Joey Fatone! Tommy Lee! Gabrielle Union, telling reporters what a sweet Girl Britney Spears is! Plus NFL players including D'Brickashaw Ferguson, Vernon Davis, Derek Anderson, Leigh Torrence, and a whole lot of others I didn't recognize.
* But it was extremely cold, and we were surrounded primarily by young women excited to see Joey Fatone and young men loudly playing Guess-the-B-Lister, and so eventually we left, and wandered back toward our car, and passed Dennis Rodman stumbling around and hugging police officers. I tried to take a photo but only got his shoulder.
By Dan Steinberg | February 1, 2008; 11:15 AM ET
Categories: NFL
Save & Share:
Previous: Redskins Win Madden Bowl
Next: Matt Hasselbeck on Jim Zorn
Posted by: ScottVanPeltStyle.com | February 1, 2008 11:39 AM | Report abuse
Posted by: Lindemann | February 1, 2008 2:38 PM | Report abuse
The comments to this entry are closed.