Greivis Vasquez is Mr. GQ
After his record-tying assists night in Maryland's win on Saturday--a win that has the Terps steaming their way toward the Top 25 (two votes this week!) and making American look better and better--lots of folks were talking Greivis Vasquez.
"You need someone that's a little crazy out there," Gary Williams said, roughly, after the game. "Greivis does that very well."
Crazy, huh? Tell me more.
"I know a few layups he threw up off the glass, they looked kind of suspect, but I knew they were going in," Jerome Burney told me. "Other times he would throw up a shot and you're like, 'No, noooo.' You never know what's going to come."
And off the court?
"Same way," Burney said. "He's not crazy, just hyper."
Hyper, huh? But what of his style?
"Greivis is fly, man," Boom Osby said. "We call him 'Mr. GQ.' He's like the Tom Brady of our team. That's who he is. He dates competitive cheerleaders and softball players. He's just something else. Did you see what he had on today, the Diesels and the jeans and the button-up? He's fly, man. He's a pretty boy. He's something else."
So he has a particular style, yes? Can it be described?

"You never know," James Gist said. "Some days Greivis will come in in just sweats, another day Greivis will come in with an Eskimo hat. You just never know what you're gonna get with him."
"Eskimo hat" being James Gist-speak for a winter hat with furry ear flaps, which is a fine look for a chilly day like today. Well, and the curious facial hair, right? Eskimo hats are fine, but they hardly to compare to the shaving of random, non-symmetrical hieroglypics into one's face, do they? What were those strange markings, anyhow?
"Oh, that Caracas gang sign stuff?" Osby recalled. "No, I'm kidding. I don't know what that was man. I thought it was all right....What'd you call it, James, when Greivis had that stuff Z'd in his face?"
"I don't know what the hell that was," Gist said.
It was a little different," agreed Eric Hayes. "Never seen anybody have that before. I wouldn't mind seeing it again."
"I liked it," Burney told me. "Actually, he's got a moped, that's where he got the design from. It had the lightning strikes."
A moped, huh?
"Greivis actually does have a moped, he has one, and he loves riding around," Dave Neal said. "He doesn't abide the laws or anything, he just kind of drives around and goes crazy."
At which point I wasn't sure whether I should be more interested in the fact that Greivis rides a moped around campus--crazily, and in Montrose Christian colors, no less--or that his facial hair may have been influenced by said moped's design. Greivis, what say you?
"It's not mine, somebody [loaned it to] me," Vasquez said of the moped. "Sometimes I drive it and then people think it's mine but it's not. The moped got lines all up and down and stuff and then people be like that was [the designs], but it's not why."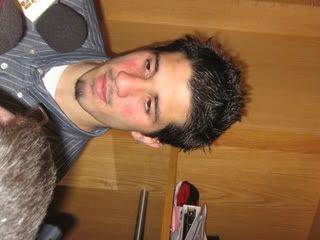 Ok. So, um, why?
"That was like some style my barber used to do, images and lines," he said. "I thought it was cool."
It should be noted that when Greivis shaved his head last year, teammates began calling him "G.I. Jane." And that, by his own count, he's now on his fourth hair style of this basketball season. I wondered how he might describe the latest look, the appearance of which has corresponded roughly with the Terps' win streak.
"I try to represent the Spanish countries," he said. "I'm from Venezuela. I just don't want to be the typical basketball player that everybody look [like], you know, with the braids and all that. I just want to be myself, and I want to look good out there, and I kind of just thought about putting my hair like this....I don't know, like it's electricity going, everything up," he said.
The current facial hair, I pointed out, is rather pedestrian, sort of Scott Spiezio mixed with Cary Elwes in The Princess Bride.
"Girls like it though," he said, which was a fine answer.
So, last thing. Out of curiosity, who has the better basketball hair-cut, Boom with his fro or Greivis with his "Electricity Going" Spanish country look?
"Definitely me man," Boom said. "How many people out there got spikes? How many people out there got fros?"
I came very close to asking Gary Williams for his opinion, but I figured I'd let him enjoy the win and let me enjoy being alive.
By Dan Steinberg | February 12, 2008; 1:37 PM ET
Categories: Terps
Save & Share:
Previous: Watch the Wiz Lose a 23-Point Lead
Next: Jim Fassel Blames the Bloggers
The comments to this entry are closed.