Hoyas Costume Party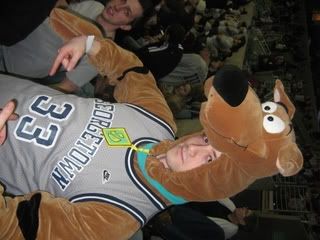 Only a blogger strafed with the lifeblood of his city's sports franchises could be sure he'd receive an e-mail like this before deadline.
"In case you haven't heard, tomorrow night is costume night at the Verizon Center for the Georgetown-St. John's game," reader Dan Monico wrote me. "My group in section 104 is planning on going as the Village People."
But of course you are, Dan and friends. This now marks the sixth entry I've penned about Hoyas and costumes, and it sounds like an even dozen might be in my future, because tomorrow is indeed Student Costume Night, an event whose winner will be given a student ticket to the Big East Tourney and a round-trip Amtrak ticket to New York. During which train ride, we can only hope, the winner will be dressed like a suckling pig or a space cowboy or a 17th century buggy driver.
"Our common goal is have everyone in costumes," a fan dressed as Scooby Doo told me at a Hoyas game this season. "Until that happens, we won't be happy."
Now, Scooby, the athletic department is offering you a chance to grasp that ring of happiness in your plush-covered crime-solving fingers. My personal list of Hoyas costumes at this point reads like happy hour at a French Quarter sports bar: an Easter Bunny, a banana, Thomas Jefferson, Alexander Hamilton, some zoot suiters, a 10-piece red-and-gold clad marching band, a cow, a Pikachu, a devil, an angel, a Mexican wrestler, a parrot and a chicken.
"The chicken, that was the first one I remember seeing, the guy who dressed up like a chicken," said Andy Rowdon, Georgetown's assistant director of marketing. "We do laugh at some of the ones we see, so we thought, 'Let's see how creative the students can get.'...Honestly, I couldn't explain the phenomenon at all."

Me neither, but I'm willing to give the Hoyas credit: for better or for worse, their costuming is unparalleled in this area. Certainly there's no parallel at Maryland, which offers only a super hero, a few Ninja Turtles and some afros. The Terps did invite students to dress in costume for a women's exhibition game this year, but it was on Halloween, and most of the costumes were sports-related, although some athletes did come dressed as M and M's.
"We probably wouldn't do that for men's basketball, simply because men's basketball we try to keep as traditional as possible," said Senior Associate Athletics Director Brian Ullmann. "We love that people dress up, but for us, we like to keep it a little bit more traditional."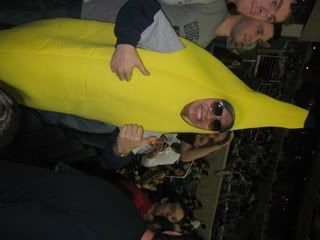 But Georgetown's fans have embraced the mask, the 'stache and the fur, and so tomorrow there will be six semi-finalists who will participate in the Jiffy Lube Trivia Contest, the Verizon Triple Play Shootout and the Dress Like a Hoya game, with the three winners moving on to the Fan of the Game contest, which will be decided on by the fans. With the school in the midst of mid-terms and a late-night start, organizers figured this was the perfect game to play dress-up. They only planned this event three weeks ago, but they're looking for fans who have gotten into the spirit of the night: creativity, humor and wow-ness will all be valued.
"Things that would make you say, 'Why would someone dress like a chicken?' " offered Mex Carey, an athletic department spokesman.
And why, you ask? Why would someone dress like a chicken? Why did three Hoyas fans go to the 1981 Big East tourney dressed as an eagle, a bear and a lion? Let's go back to Dan Monico, who dressed like a Scooby Doo during last year's NCAA tournament but has since moved on to the Founding Fathers.
"I think Georgetown students and alumni possess a certain self-confidence that enables them to walk proudly even though they're wearing a preposterous child's Halloween costume," he wrote me. "Lucky for me, embarrassment is not one of the emotions that I'm programmed to feel, so I don't have any problem going to a game as Alexander Hamilton, Scooby Doo or the construction worker from the Village People."
Indeed. Or, as the Village People might say, "put your pride on the shelf, and just go there," Hoyas fans.
By Dan Steinberg | February 26, 2008; 5:43 PM ET
Categories: College Basketball
Save & Share:
Previous: Lllllllllloyd
Next: Bowden Segwaying: the Video
Posted by: who cares | February 26, 2008 5:54 PM | Report abuse
Posted by: Dan Steinberg | February 26, 2008 6:25 PM | Report abuse
Posted by: A Hoya | February 26, 2008 8:02 PM | Report abuse
Posted by: sitruc | February 27, 2008 2:37 AM | Report abuse
Posted by: ScottVanPeltStyle.com | February 27, 2008 11:59 AM | Report abuse
Posted by: G20 Fdacowboys | February 27, 2008 3:00 PM | Report abuse
Posted by: 1234 | February 27, 2008 3:48 PM | Report abuse
Posted by: EtoW | February 27, 2008 5:41 PM | Report abuse
Posted by: HsvsRsvsesv | April 25, 2008 1:25 AM | Report abuse
The comments to this entry are closed.