Leigh Steinberg's Super Bowl Party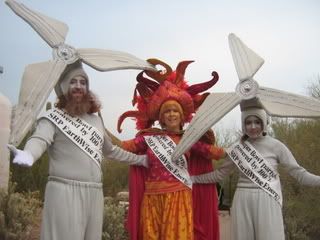 It occurs to me that I never actually wrote about going to Leigh Steinberg's Super Bowl on Saturday afternoon, which was one of the more surreal three hours in my life. The vague rundown. All times MST.
2 pm: Leigh Steinberg's 22nd Annual Super Bowl party begins. Despite an invitation, gotten through Bog self-promotion, I'm stuck at the media center uploading photos of Carmen Electra.
4 pm: I finally leave the media center, but get distracted by the official Redskins reception across the street inside a patio attached to a sports bar called "Networks."
4:05 pm: I try to go to my car, but there's a Fathead of Clinton Portis outside the party, so I'm worried he might be inside. I go in to investigate, and find not Portis but Cal Ripken, sitting by himself in a booth.

4:10 pm: I decide I should just leave, since someone else has already approached Ripken. Outside, hanging out in the patio area, I see several employees of Comcast SportsyNet, including important person Scott Langerman. And also Bob Foose, executive director of the MLS Players Union.
4:15 pm: While we're chatting, WTEM's Andy Pollin shows up. He'll be leaving the Phoenix area the next morning, and he notes that the crowds in downtown Phoenix have been sparse at best all week. I tell him he needs to go to downtown Scottsdale aka the Dirty 'Dale. He agrees. We drive toward Scottsdale, stopping at the Desert Botanical Garden for Leigh Steinberg's party.
4:45 pm: Andy Pollin and I arrive about 15 minutes before the scheduled end, and the party is still jumping, although we've missed the part where Leigh Steinberg released a live hawk or owl or something into the wild. We stand around and talk to Fox Sports's Andrew Siciliano, see a famous party crasher named Jerry, and run into Ray Brown, in his final day of freedom before he becomes a Buffalo Bills employee. Some fans come up and ask Ray if they could pose for a photo, although they don't know his name. He introduces himself as Darrell Green.
Also, there's gelato, and a wine bar, and chili with onions.
5:30 pm: We leave the party, collecting gift bags containing florescent light bulbs, Clif bars, body spray for athletes, dietary supplements, golf tees, a t-shirt and udder cream.
5:35 pm: As we're trying to get to our car, we run into the folks pictured at the top of this entry, on stilts, representing wind and solar power. I think by this point I've said about 73 different things represent Super Bowl, but let me add to that list leaving a party populated by people who arrived in Maybachs, being handed a florescent lightbulb and then running into circus performers on stilts representing renewable energy while accompanied by a sports talk radio host.
By Dan Steinberg | February 6, 2008; 3:14 PM ET
Categories: NFL
Save & Share:
Previous: Gilbert and Buckhantz: a Super Bowl Mystery
Next: Super Bowl Fashion
Posted by: WaPoLiveFan16 | February 6, 2008 3:29 PM | Report abuse
Posted by: Kim | February 6, 2008 3:33 PM | Report abuse
Posted by: ScottVanPeltStyle.com | February 6, 2008 3:51 PM | Report abuse
The comments to this entry are closed.