Local Poll Week 12: Stupor Tuesday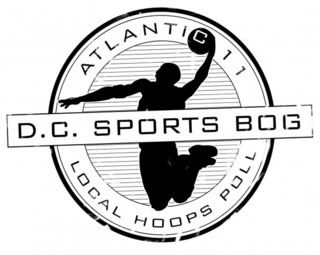 On this of all days, we're kindly reminded that one of the reasons democracy doesn't work is because people are stupid. I don't know why I run this poll; I should just decide which 11 teams are best and then tell you. Maybe Jamie Paquette and Bill Fitzgerald will be allowed to help me. We'll call it the Atlantic 11 Triumvirate. It's gonna be awesome. No chads allowed.
(I should note that our electronic voting form kind of stinks, so I guess it's possible these are honest mistakes.)
(Also, there are others of you who have submitted most excellent ballots, exceedingly similar to ours, and with amusing and witty pith. Maybe we'll let you advise us.)
Anyhow, not only do we have voters giving fifth-place Atlantic 11 votes to the worst team in the Atlantic 10 (George Washington), we have many voters ranking Morgan State behind a Hampton team it just beat on the road. Jamie Paquette, Bill Fitzgerald and I all had Morgan State ranked narrowly ahead of Hampton. That's why we're in charge here.
Anyhow, Maryland big-names its way into second (with a record the same or worse than two lower-ranked teams that both have wins over the Terps; JP, BF and I had the Terps ranked 4th, 3rd and 5th). VCU tumbles to fourth, Virginia and UMBC swap places in the middle, Morgan State enters the Atlantic 11 and American departs to the sound of one hand waving.
The AP ranks 'em like this: Georgetown (6th), Virginia Tech (5 votes). The coaches rank 'em like this: Georgetown (6th). No one else received votes.
The RPI's Top 7 would go like this: Georgetown (6th and, incredibly, still rising), George Mason (52nd), VCU (58th), Virginia Tech (62nd), Maryland (66th), UMBC (101st), Hampton (105th). GW is 225th, with thoughts of an at-large bid gradually fading I guess.
Results and pith after the jump.
1. Georgetown (18-2) 480 (48)
--Tonight vs. South Florida, Saturday at Louisville.
--Hoyas dominated a St. John's team that was led by Anthony Mason Jr. Between Mason Jr., Patrick Ewing Jr., and Jeremiah Rivers, we were just Allan Houston's son, Charlie Ward's son, Marv Albert and some lingerie away from recreating an NBC NBA Game of the Week from the mid '90s. (Markus Videnieks)
2. Maryland (14-8) 378
--Wednesday at Boston College, Saturday vs. N.C. State.
--Terps had five players in double figures against Georgia Tech, the kind of balanced effort that has made the Flying Wallendas an international success, except for the rare occasions when one or more of them has fallen and died or suffered crippling injuries. (Bill Fitzgerald)
3. George Mason (16-6) 362
--Thursday at Drexel, Saturday at Old Dominion.
--"George Mason coach Jim Larranaga recorded his 200th win against JMU." That can be read two different ways--and both are correct. (Glenn Arnold)

4. VCU (16-5) 345
--Wednesday at Georgia State, Saturday at Delaware.
--Rams forward Larry Sanders blocked seven shots against Towson, then celebrated the team's win with dinner at Hank's Lookaround Café. (Bill Fitzgerald)
5. Virginia Tech (14-8) 314
--Tonight at N.C. State, Saturday vs. Miami.
--I just erased their two victories over Virginia from their "Quality Wins" column. (Glenn Arnold)
6. UMBC (15-7) 215
--Wednesday vs. Stony Brook, Saturday vs. Binghamton.
--Now that John Edwards is out of the race I refuse to believe that the Retrievers are leading the America "East." There is no America East and America West; there's only America. (Paul Campbell)
7. Virginia (11-9) 135
--Thursday vs. Clemson, Saturday at Wake Forest.
--Criticizing Dave Leitao after Saturday's loss, Mike Scott will now inevitably be cut from the team and spend the rest of his life as an underachieving regional manager at a Mid-Atlantic paper company. (Sean McLernon)
8. Hampton (13-7) 107
--Saturday at Delaware State.
--The MEAC shall inherit the earth. (David Larimer)
9. William & Mary (12-9) 77
--Wednesday vs. Hofstra, Saturday at Northeastern.
-- If William Shatner and Mary Louise Parker did a show together, it would either be called "William & Mary," or T.J. Hookah. (Max Wass)
10. Morgan State (13-8) 72
--Saturday vs. Winston-Salem State.
--Ready to be famous for something other than being name-checked by the RZA in the classic sea shanty, "Wu-Tang Clan Ain't Nuthing to [Expletive] Wit." (Michael Palan)
11. Richmond (11-9) 58
--Wednesday vs. Temple, Sunday vs. Saint Louis.
--Chris Mooney doesn't show game film to his players. He also encourages them to dress in black, grow beards and rebuke the fast break as "Satan's hootenanny." (David Larimer)
Also receiving votes:American 25, Old Dominion 23, Loyola 13, George Washington 11, James Madison 8, Norfolk State 4, VMI 3, Mount St. Mary's 2, Navy 2, Towson 2.

By Dan Steinberg | February 5, 2008; 5:26 PM ET
Categories: College Basketball
Save & Share:
Previous: Hitting the Red Carpet
Next: Steve Spagnuolo's Wife
The comments to this entry are closed.