Local Poll Week 14: UMBelievable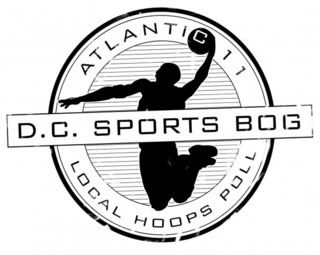 If what the TV dorks call "chalk" and I call "seedings" hold up, our humble little poll now has six teams going to what the TV dorks call "The Dance" and I call "The NCAA Division I Men's Basketball Championship." Seventeen of the A11's 27 teams are currently at or better than .500 in conference play. A calculator would tell you our area should send 5.14 teams per year; six berths would make it 13 in two years.
In coming days, look for a possible return of the Best Bracket Game Ever, featuring mini-brackets for every conference tournament in DI. More importantly, poll voter Jamie Paquette and I are working on devising an Atlantic 11-based March game that could be the awesomest thing ever, or at least a moderate waste of time for bored office workers.
In the meantime, nine of last week's Atlantic 11 suffered at least one loss, with only UMBC and American emerging unscathed. But there was almost no corresponding Atantic 11 shake-up. The top seven didn't change (although Georgetown got its smallest percentage of first-place votes this year and UMBC gained a bit on George Mason). Patriot League-leading American achieved its best ranking of the year, Old Dominion jumped back in the rankings at No. 9, and Hampton took the week's biggest tumble.
The AP ranks 'em like this: Georgetown (12th). No other votes. The coaches rank 'em like this: Georgetown (11th). No other votes.
The RPI's Top 7 would go like this: Georgetown (9th), Maryland (50th and continuing to inch up), VCU (64th), George Mason (65th), Virginia Tech (71st), UMBC (99th), Richmond (102nd). American is up to 107th, for what that's worth, while second-in-the-Patriot-League Navy is at 246th. Howard is 333rd.
Results and pith after the jump.
1. Georgetown (21-4) 561 (50)
--Saturday vs. Cincinnati.
--They just played at the "Dunkin Donuts Center". Please allow your mind to be blown at the idea of playing at the center of a Dunkin Donut. (Jason Anderson)
2. Maryland (17-9) 509 (7)
--Wednesday vs. No. 6 Virginia Tech, Saturday at Miami.
--New world record for most half-court shots made: Chris Paul, at the NBA All-Star Game. New world record for most half-court shots attempted: Greivis Vasquez, in Durham. (Matt DeTura)
3. VCU (19-6) 446
--Wednesday at Northeastern, Saturday at Akron.
--Rams maintain ranking in Bog Poll, but Anthony Grant slips from #1 spot on South Carolina AD's speed dial. (Bill Fitzgerald)
4. George Mason (18-8) 352
--Wednesday vs. Delaware, Saturday at Ohio.
--After another loss to UNCW, Jim Larranaga could be on the hot seat. In this area, if you lose to the Seahawks, you might get replaced by one of their coaches. (Markus Videnieks)
5. UMBC (18-7) 344
--Wednesday at Albany, Saturday vs. New Hampshire.
--Following in the pawsteps of Uno the Beagle, the Retrievers also beat the Terriers last week. (Max Wass)
6. Virginia Tech (14-11) 204
--Wednesday at No. 2 Maryland, Saturday vs. Georgia Tech.
--Although they only played one game last week, they lost by enough for two. (Glenn Arnold)
7. Morgan State (16-9) 169
--Saturday vs. Howard.
--Has Boubacar Coly surpassed Boubacar Aw for the title of "All-Time Greatest Boubacar in the Atlantic 11?" (Scott Allen)
8. American (16-10) 162
--Wednesday vs. Army.
--Buy your tickets now to the Eagles' heartbreaking loss in the Patriot League tournament championship game. (Tim Lemke)
9. Old Dominion (14-13) 87
--Wednesday at James Madison, Saturday vs. Bucknell.
--These guys are starting to look like the old Old Dominion, or what I like to call Elderly Dominion -- E.D. for short. (Sean McLernon)
10. Virginia (12-12) 86
--Thursday at Georgia Tech, Sunday vs. N.C. State.
--Dave Leitao needs to bring Pete Gillen in to talk to the team about playing just well enough down the stretch to make it into the NIT and then lose in the first round. (Sean McLernon)
11. Hampton (15-9) 73
--Saturday at Coppin State.
--The wife didn't believe me I told her I was late because I stopped off at a bar to watch the end of the Hampton-UMES game. Actually, I didn't believe it either. (Glenn Arnold)
Also receiving votes: Richmond 51, Norfolk State 22, William & Mary 19, Loyola 12, George Washinton 9, Md.-Eastern Shore (RPI :336) 7, Navy 5, Mount St. Mary's 3, VMI 1, Maryland women 1.
By Dan Steinberg | February 19, 2008; 4:01 PM ET
Categories: College Basketball
Save & Share:
Previous: Serena Comes to D.C.
Next: More Nats Job Openings
The comments to this entry are closed.