Maryland Fans vs. Georgetown Fans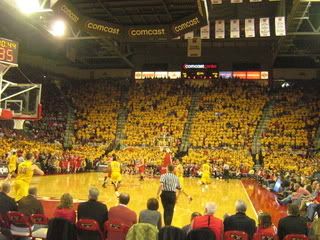 Having recently attended my first Maryland game of the season, and having also attended two Georgetown games (plus one American game) this year, I'd now like to make a series of completely unobjective and uninformed observations about certain notable or possibly imagined differences between the two venues. If you've been to more than two games at either venue this season, you outrank me, and are allowed to tell me I'm a rank idiot.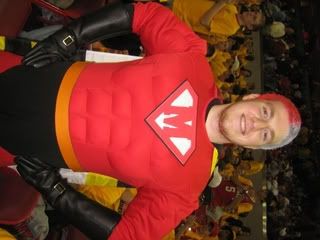 1) Maryland fans are louder. Or maybe the building is just louder. Not necessarily in sustained volume, but in those one-time bursts that cling to your cochlea. The roar at Comcast is the sort of roar that makes your heart race a bit, makes you want to stop reading those bizarre Jim Zorn updates and swivel your head around and take it all in and then cut a basketball into a manageable noggin-shaped size and paint it four colors and place it on your head.
(And sue me, but I like the Maryland fight song a bit better, although I think I like Mason's the best of the close-in local fight songs I can remember off the top of my head, likely because I immediately associate it with Livin on a Prayer.)
2) And yet Georgetown student fans--at least the ones I've met--are both better costumed, and a heck of a lot funnier. I can wander through the student section at a Hoyas game and be sure of at least four weird costumes, and at least 900 kids willing to give me funny quotes. Trying to get one single funny quote out of the Maryland student section, about gold uniforms and gold t-shirts or anything else, was like trying to get Gary Williams to do a stand-up comedy routine in Italian at the Maryland State Fair while juggling Missouri Valley-branded bowling pins and singing the George Washington fight song. Wasn't happening. (Although their student cow was better.)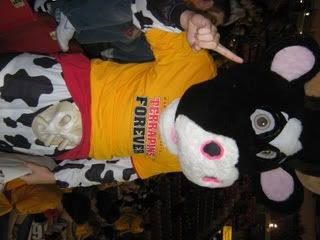 "I mean, I really don't know what to say," said one student, who was primarily inteterested in whether I knew Jason LaCanfora.
Also, I get recognized by far more students at Hoyas games, which likely makes me biased in their favor.
3) And in terms of humor, you're right, it's impossible to overstate the impact of alcohol. No at Comcast Center, yes at Verizon Center. I completely condemn alcohol consumption by anyone under the age of 54, but it sure makes for a more pleasantly feisty basketball crowd.
4) In a related story, Maryland fans seemed more tense. I wrote this down before I knew about the alcohol thing; there was just a hovering sense of dread and anxiety throughout much of that game. This could be specific to this season, when Hoyas fans have grown used to their team pulling wins out in the second half, and Terps fans were temporarily used to expecting the worse, but there just seemed to be less joy in the Comcast Center, noise notwithstanding. Maybe they get it from their coach. The Hoya kids jump about an awful lot, though, and it's joyfully, spilling out into the aisles and all that.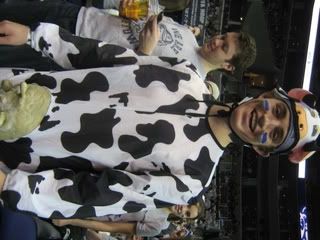 5) And yet, Maryland fans--many of whom arrived late--managed to create a big-game feel. This might have been because of the dominant colors in the stands (nothing but gold and red), or because of the cool arena, or because it was a Saturday night, or because I was on a deadline and thus more inclined to histrionics, but it just felt more important somehow, more big-league.
(As an aside, major bonus points to the Terps honchos for allowing us into the locker room to conduct interviews after the game; the lack of such an extravagance at Georgetown games forces me to do nothing but interview fans.)
6) The front-row-white-boy gimmick was better at Maryland. At Georgetown, they have Rejection Row, featuring one giant Mutombo finger for every Georgetown block, which is fine, but which can't even start to compete with the five guys in Afro wigs with t-shirts that spell out "BOOM!" And I don't care how overexposed they are by this point, it's still great. Here's a short list of athletes who have been honored with fan wigs in recent years: Laurence Maroney, Ben Wallace, Anderson Varejao, Ricky Williams, Juan Toja. Next year, I'm making Jim Zorn wigs.
The wigs, by the way, came from Party City and cost $20 or so. And Jake Krimmel, the lead fro fearer, told me that the afro went well with the gold unis.
(On the other hand, for in-game entertainment, nothing at a Maryland game can top Jack the Bulldog ripping stuff up. That's just a great stunt. A real highlight. As are Chvotkin's calls.)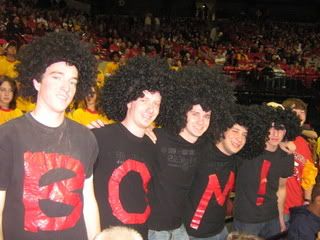 "Actually, they kind of work together, if you're going to do the throwbacks," he said. "Announcers always say how [Boom] looks like he should be in the ABA, and he plays like a throwback."
7) American fans get more free enchiladas. And make a lot less noise. Although their team is in sole possession of first place in the Patriot League. No team in the country leads a conference with a worse conference record than the Eagles, as of this writing.
8) All three teams might be on their way to the tournament. That's a good thing, no?
By Dan Steinberg | February 11, 2008; 3:27 PM ET
Categories: College Basketball
Save & Share:
Previous: Today's Top Five: Gil = Puff, Zorn Shirts
Next: Local Poll Week 13: Hoyas vs. Terps
The comments to this entry are closed.