Mason Tailgate: Pig Snouts and Water Pong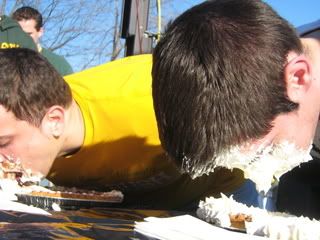 When Will Thomas made a free throw to move Mason into a tie with UNC Wilmington in the final six seconds tonight, the sold-out Patriot Dome got very, very loud. When T.J. Carter then drove the length of the floor to hit a game-winning layup at the buzzer, it got very, very quiet. It was Mason's first home loss of the season.
That's my game summary; the rest of this is just about tailgating.
At first glance, the parking lots outside the Pat Dome had everything you might expect from a sunny mid-afternoon basketball homecoming tailgate. There were pie-eating contests and couples lip syncing to Boyz II Men, Mr. Mason contestants wearing kilts and fraternity-sponsored DJ's sending out their love to the female thong, beer-pong tables and young men guzzling boxed Franzia wine, cheerleaders asking George Mason trivia questions and cars painted with the latest in CAA smack ("Beat the poo poo out of UNCW").
And, of course, there were the foam hands with the index and pinky fingers extended, which were given away in honor of this year's homecoming theme: Mason Rocks. I just had to beat fight off some kids to claim one of these prizes.
What was missing from the tailgate? Well, the mechanical bull, for one thing. Also, I'm told that beer pong is traditionally played with beer, but maybe that's a 20th century thing.

Brief back story, which I'm retelling for the benefit of my editor. After Mason turned its winter homecoming into a non-BYOB event last winter, hundreds revolted, taking their party off-campus to a mall parking lot, an event that drew hundreds and sucked much of the life out of the university's event. The Fairfax Social Club, that alumni group that in tailgates past had been responsible for beer pong games inside Ryder trucks, giant racing tricycles and remote-controlled NASCAR races, led that defection.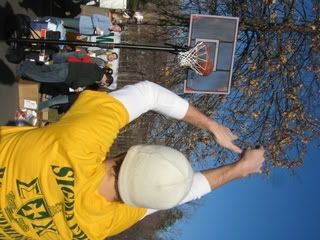 But for the first time this winter, the university got an ABC license for homecoming, and the Fairfax Social Club came back, promising, among other things a mechanical bull. That got shelved by the university, due to risk management concerns, as did a request to bring back the giant racing tricycles, developments that made several FSC members quite sad, consumed by the feeling that their school was finding another way to diminish the fun.
The FSC still erected a stand-alone basketball rim--sponsored by the all-powerful Brion's Grille--and held shooting contests yesterday, and there were still hundreds of pounds of grilled animals and thousands of fans enjoying about as nice a mid-February tailgating day as you could imagine. There were also plenty of hosannas to the new, post-Final Four George Mason, the George Mason that can sell out two consecutive home games for the first time in school history.
But there were also those who missed the bucking of that mechanical bull, those who wished for a slightly different security-to-revelry ratio, those who wondered why the beer pong cups had to be filled with water and cola. One group took a sign announcing an absolute prohibition on drinking games and planted it in the middle of a beer pong table; the game was shut down in a matter of minutes, but dang if it didn't make for a nice photo-op.
"This tailgate represents Mason well; it's a lot of people trying to have a good time and being held down by the man," said junior Alli Coates. "They're trying to keep it always clean and fun, but this is college, and they can't wrap their heads around that."
The FSC's members framed their concerns in a slightly different manner. Now in their mid-'30s, several of the group's members have started families; others have children on the way. They no longer attend tailgates primarily for liquid-based reasons, but rather to attempt to top their previous stunts, to continue turning this Patriot homecoming into an event.
"We created this from scratch, and we tried to do something bigger and bigger every year, because we don't have 40 years of history to draw upon," said Greg Brown, one of the group's leaders, who chalked up any hurt feelings to "growing pains" but was nonetheless highly disappointed about the nixed events.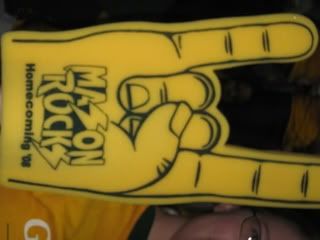 And yesterday's event, they said, might have been their last.
"It's the Danny Glover thing--we're getting too old for this," said Mike McNutt, another FSC organizer. "It's not just showing up. We want to show up and bring it to the next level, not just have a DJ playing "I Love Rock 'N Roll,' " as the frat's DJ played "I Love Rock 'N Roll."
(As for concerns that they were bringing risk to the event, "hell, we're 35 years old, if we wanted to go get drunk somewhere the last place we'd go to do it is at a college campus with cops walking all around," McNutt said. "There's a bar across the street. So who's abusing alcohol? Who's always abusing alcohol at college campuses? Not the 35-year-old alumni who've just spent two hours putting up a basketball hoop.")
Anyhow, the younger generation has been busy creating its own traditions. One fraternity roasts a pig every homecoming and takes photos of its members kissing the blackened pig on the snout; another provided two of the three pie-eating winners yesterday.
"I still smell pudding in my nostrils," pointed out Mike Daversa, one of those Pi Kappa Alpha guys, as he attempted to expunge the dining-hall produced cream pie from his nose. "My girlfriend called me an idiot for doing it, but she won't be complaining now that we got a free dinner out of it."
Anyhow, far be it for me to tell anyone how to celebrate, but here's one view: sure, the tailgate was slightly sanitized, and we all missed the bull terribly, and there were no blow-you-out-of-the-asphalt moments, but as you walked out past the trio lip-syncing "Barbie Girl," past the pig kissers and the Tony Skinn jerseys, past former Patriots guard Tim Burns and past the Fairfax Social Club members posing for group photos by their basketball rim they had spent over an hour erecting and that they would later donate to kids, you couldn't help but think that this homecoming was a lot better than no homecoming at all.
"A typical basketball game, I'm one of four people drinking outside; this is 100 times the size of a normal tailgate," said senior Will Curley, as the kilted guy walked past us. "Plus you've got a homecoming court guy in a kilt. That says a lot right there."
By Dan Steinberg | February 16, 2008; 8:59 PM ET
Categories: College Basketball
Save & Share:
Previous: Duke-MD Cheer Sheets and Hoya Movie Quotes
Next: Syracuse Storms the Court
Posted by: masonnnnnn | February 17, 2008 5:12 AM | Report abuse
Posted by: GMUDuckman | February 17, 2008 12:48 PM | Report abuse
Posted by: Anonymous | February 17, 2008 1:47 PM | Report abuse
Posted by: Sean Bouchard | February 17, 2008 2:25 PM | Report abuse
Posted by: ScottVanPeltStyle.com | February 17, 2008 2:41 PM | Report abuse
Posted by: Mark | February 17, 2008 5:31 PM | Report abuse
Posted by: foam fingered | February 18, 2008 9:47 AM | Report abuse
Posted by: Zone Manager | February 18, 2008 12:50 PM | Report abuse
Posted by: Arlington Pimp | February 19, 2008 4:30 PM | Report abuse
Posted by: Arlington Pimp | February 19, 2008 4:32 PM | Report abuse
The comments to this entry are closed.