Terps Gag, Hokies Puke: The Story
[Warning: this is gross. Really gross. Video available at The Sporting Blog.]
I went to Maryland-Virginia Tech tonight not knowing what to write about, just hoping something interesting will happen. "Don't worry," the boss said. "Something interesting will happen."
With 59.1 seconds left in the first half, something interesting happened. As Maryland's Jason McAlpin was shooting a free throw, Virginia Tech freshman guard Dorenzo Hudson vomited on the court. Chaos, of course, ensued.
A towel was placed over Hudson's head, and he was led off the court. At least a half dozen other towels were thrown onto the court, pressed into an emergency mission that would require every fiber of their being. The media, seated at the other end of the floor, began debating what had happened. A very bloody nose? A loss of bladder control?
"THAT'S DIS-GUS-TING," the student section began chanting.

I left the media area and ran over to the clean-up area, where Terps fans seated in the front row told me what had happened. Vomit. And lots of it. The media quickly ran through the list of eligible puns. Would the Terps regurgitate their lead? If so, would Gary Williams be filled with bile? Would Greivis Vasquez continue throwing up ill-advised shots? Which team would fight its guts out? Meanwhile, the e-mails were already rolling in.
"What a magnificent spray pattern is all I'll say," read one.
It quickly became clear that this particular clean-up would require more than mere towels, and so a woman marched onto the court carrying a mop, the first sign that arena officials were getting serious.
"M-V-P, M-V-P," the students chanted at her. The "Fear the Fro" kids, in a nifty bit of improv, turned one of their signs into "Fear the Mop." The sign made the jumbotron, to loud cheers. One mop became two, and then three. Spray devices were deployed. At least five or six employees and half the towels in metro Washington got into the clean-up, along with at least one game official. The smell wafted into the stands.
"I got a whiff of it," confirmed Maryland fan Russ Dlin, seated in the front row. "It smelled like puke, is what it smelled like."
Others were more descriptive, and again, feel free to look away.
"I thought he got hit by a drink," said Gary Harraka, also from the front row. "It just went squirting out. It was pretty disgusting."
"He was going into his shirt, but it was still flying up," said senior Greg Weller.
"He was holding his mouth and it sprayed up in the air," said senior Dan O'Keefe.
"It sprayed at least two feet in the air," agreed senior Clark Johnson.
"That was mostly liquid, though," Weller chimed in. "First he blew out mostly chunks right there, then when he started covering up it started deflecting off his shirt."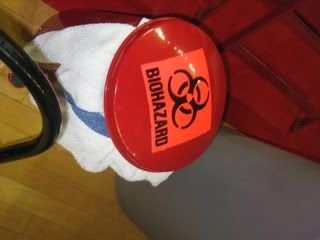 "I almost puked myself," added senior Sean McConaghy. "It was disgusting."
"That delay cost us time at the bar later," he added, after thinking things over.
The clean-up seemed to go on forever, one absorption tactic followed by another cleansing effort, minute after minute ticking by, as the coaches wondered what happening and the floor was wiped cleaner than the men's room at a Hannah Montana show. At last the teams played the final 59 seconds of the half, and then the crew did even more cleaning up during halftime, dealing with what was described to me as a mixture of macaroni and Gatorade. This went on even as the Maryland Gymkana halftime show trotted out, some students dressed like turtles while others leapt through rings of fire.
And then came the postgame. I walked past Virginia Tech's locker room and easily heard the laughter and loud chants, "My name is Willie Beamen!!!!" referring to the Any Given Sunday quarterback prone to vomiting. So did we ask players about the incident? Are we not bloggers? Have we not waited our whole lives for this chance?
"I was on the bench but I seen him lean back and I was like, 'Aww, mannnn,' " Deron Washington said. "It was more funny than gross. We was laughing. I couldn't focus for a few minutes 'cause he did that....That's a first time for me. It was pretty hilarious....I started laughing, then I started getting a little queasy, but we just started clowning him after that."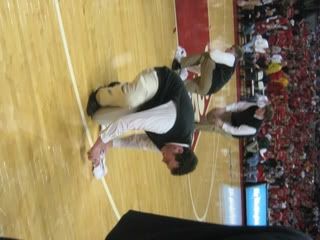 "That's got to make ESPN or something," guard Hank Thorns told my colleague, Adam Kilgore. "We're making fun of him right now, as we speak. We called him Willie Beamen That was probably the funniest thing. He puked because he was playing hard. We give him a lot of props for that. He was a man about it....My mouth just dropped. I've never seen nothing like that in my life."
How about you, Coach Greenberg?
"Thirty-one years, I've never seen someone blow their freaking lunch," Greenberg said. "That's the first thing I said. I turned to him and I said, 'I've never seen somebody lose their lunch.' "
Hudson was one of the last Hokies out of the locker room, wearing headphones and a smile.
"I don't know, just an upset stomach," he said as he walked toward the team bus, claiming he wasn't at all embarrassed. "It happens."
It should be pointed out that, in addition to being incredibly brave and gracious to talk about his incident--and with that smile, no less-- Hudson also re-entered the game in the second half. He wore a different uniform, with a different number and without his name on the back. And the guy promptly nailed a three-pointer, a shot which played a not-insignificant role in the Hokies' four-point win, which has a very real chance of completely changing the postseason hopes of both teams on that court.
Anyhow, I asked Hudson whether he felt better after halftime.
"Not really," he said, "but I knew I had to go back out there."
"I feel like I'm about to throw up right now, as we talk," he added," which, using my years of journalism training, I interpreted to mean that it might be a good time to end this particular interview.
Oh, and Thorns did tell Kilgore what the pre-game meal was. "Same thing we always have," he said: "steak, mashed potatoes, macaroni and cheese."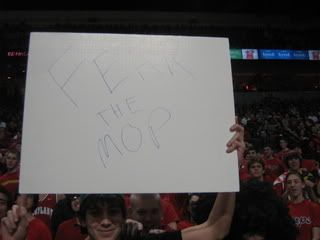 By Dan Steinberg | February 21, 2008; 1:44 AM ET
Categories: College Basketball
Save & Share:
Previous: Love in the Verizon Center Stands
Next: Today's Top 5: A TK Send-up, and Boom's Car
The comments to this entry are closed.