The Atlantic 11 March Challenge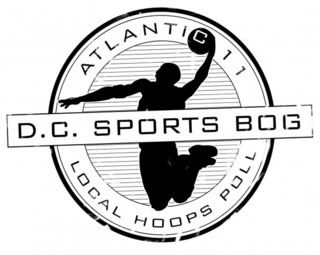 Ok, here is this year's Atlantic 11 March Challenge, fiendishly devised by voter Jamie Paquette. This game is open to all; just send in your entry to this address. Yeah, this is probably asking for trouble, but I've seen my readership numbers, so I think we'll be ok. The grand prize is an autographed copy of a college basketball-related John Feinstein book. Second place is "The Beerbelly, a removable spare tire that serves a stealth beverage." Further prizes are still in the works, but will be of a similar caliber. Like, maybe a George Mason foam finger or a Doc Nix bobblehead or something. If you've made it this far, I can promise that you'll like your prize.
But the prize is irrelevant, because the game is so cool. If anyone wants to volunteer to keep score, you can have an extra prize. And Atlantic 11 voters are required to participate, unless they don't feel like it or their employment forbids it or they're going to insist on arguing about Virginia Tech vs. Maryland all March. Jamie has written up the details after the jump.

* This pool is sort of a modified "Pick 8" pool where teams are awarded points for each victory based on seed.
* Each local team (save Longwood, which has no postseason) is being assigned a point value from 3 to 12.
* Teams will earn points for every postseason win they get in all competitions. This includes the conference tourneys, NCAA tournament, NIT tournament and this new CBI Tournament that totally has a very good reason for existing. So, if Georgetown (3 points) gets to the Big East final, then makes the Elite Eight, the Hoyas would get 3+3+3+3+3=15 points. If Navy makes it to the Patriot final and loses, the Mids would get 7+7=14 points. If Morgan State wins the MEAC and the NCAA play-in game, the Morganics would get 6+6+6+6=24 points. Each team could score big or crap out. (Offer does not apply to Howard.)
* Entrants will choose any five (5) teams and accumulate points for each victory by their chosen teams.
* Entrants will select one (1) of their five (5) teams as a "best bet," and that team will have its points doubled. If you like Loyola to make some noise in the MAAC tournament, then the G-Hounds could be your ticket to glory. If you want to conservatively rack up points and please stripping band leaders, VCU could be your lock.
* Keep in mind that some conferences have opening rounds that pit lower-seeded teams against each other and that some teams will have a better shot of making the NIT or CBI than other.
* We know that there could be some disagreement with the way we have broken down the teams. We tried to take into account the quality of each team, their position in their conference and the likelihood that they would play beyond the conference tourneys. There's a million different ways to do this and this just made the most sense/was the easiest way. Some teams will likely be more popular than others and some teams likely won't be picked at all. Hey, GW! What's up!?!?!? But the Best Bet should ensure that we have some diversity. The tiebreaker will be the total points scored in VMI's first-round Big South game.
* If GW does not make the A10 tournament, then they will not accumulate points.
* All entries are due by Tuesday, March 4th at noon (this is the day the Big South tournament starts, duh).
* Limit one entry per person, just for the heck of it. Tell your neighbors! Tell your friends! Tell Andy Katz and Seth Davis! Just don't tell Rick Neuheisel.
The points:
3 - Georgetown
4 - Maryland, Virginia Tech, VCU
5 - George Mason, American, UMBC
6 - Morgan State, Old Dominion, Richmond
7 - Loyola, Norfolk State, Navy
8 - William & Mary, Hampton, Mount St. Mary's
9 - James Madison, Liberty, Virginia
10 - Coppin State, Towson, VMI
11 - UMES, Howard, Radford
12 - George Washington

By Dan Steinberg | February 26, 2008; 1:46 PM ET
Categories: College Basketball
Save & Share:
Previous: Greivis Does the Caracas Shuffle
Next: Today's Top 5: D.C. Fans are Soft
Posted by: HoyaParanoia | February 26, 2008 2:15 PM | Report abuse
Posted by: Markus V. | February 26, 2008 3:31 PM | Report abuse
Posted by: ScottVanPeltStyle.com | February 26, 2008 4:06 PM | Report abuse
Posted by: Bill Fitzgerald | February 26, 2008 7:58 PM | Report abuse
Posted by: MDG | February 26, 2008 10:36 PM | Report abuse
Posted by: thigh master | February 26, 2008 11:23 PM | Report abuse
Posted by: Ian Oland | March 4, 2008 4:53 PM | Report abuse
The comments to this entry are closed.