The Players Wives' Fashion Show

High on the list of things you simply must do at Super Bowl Week: watch Donovan McNabb bid $5,000 for a fur coat at a charity auction and then cover his head with a pink napkin when it looks as if he might win, watch Reggie Jackson and Rickey Henderson mingle in the same crowd with the mothers of McNabb and Antwaan Randle El, observe the latest in high-end women's fashion created out of authentic NFL jerseys, and watch Kurt Warner's wife strut down a fashion runway.
I accomplished all these things and so much more at this afternoon's Seventh Annual Players' Wives Fashion Extravaganza, which concluded with the husbands joining their wives on the runway, allowing us to observe McNabb, Steve Young, Emmitt Smith, Sammy Morris, Michael Pittman, Neil Rackers, Andre Wadsworth and many of their peers in various degrees of discomfort.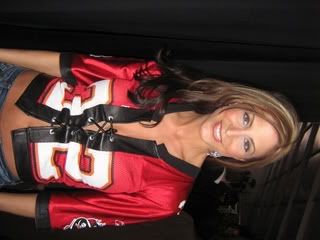 Near the entrance was the booth promoting Wife Material Custom Jerseys, the pet project of Chanita Foster, the wife of Lions tackle George Foster. So Foster makes stylish outfits out of only authentic jerseys and also some sparkly bits of something or other.
One mannequin was wearing a special Rhinestone-studded Sean Taylor outfit; "just something to do in his remembrance, tugging at some heartstrings, to signify the guy, the player and the loss," said George Foster, who was milling about before the show. "And it's one extremely hot jersey. It really pops, as they say."

Foster's Web site explains that "We are determined to fill the stands in stadiums and arenas across the country with STYLE, CLASS, and SEX APPEAL!...Not every woman can be "Wife Material!" and the fashion show seemed to back her up; the women were mostly of the stunning variety.
"Fabulous," summarized Wilma McNabb, the president of the Professional Football Players Mothers Association, or PFPMA. "Our boys pick beautiful girls, and they're gorgeous on the runway."
Seated near McNabb was the mother of Marion Barber III, wearing a jean jacket with "NFL Mom" and her last name across the back. (The Cowboys' significant others were particularly fond of the customized clothing; Leonard Davis's wife, Amanda--who also makes customized women's jersey apparel for several wives--had a Dallas jersey that read "Mrs. Davis" in rhinestones.) And sitting near Barber's mother was Jacqueline Randle El, the mother of Antwaan and another active PFPMA member who will be participating in that group's fashion show this summer.
But she was hardly the only Redskins connection; Darrell Green delivered the invocation, while his family sat at one of two tables purchased by the Redskins.

"We're the women behind the team," said Tanya Snyder, the wife of Daniel and a major benefactor of the Fashion Show, which raised money for Phoenix Children's Hospital. "It's a support system. These men need a lot of wonderful women who are behind the scenes, and they usually aren't recognized. I'm trying to do my part."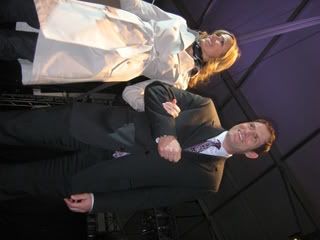 A few of the women were experienced models; emcee Patricia Smith, Emmitt's wife, is a former Miss Virginia (and a JMU grad), while Melissa Pittman, Michael's wife, still models, as does her husband. Many were not; "she's been practicing all week," said the 49ers Adam Synder, the wife of Erika. "She just doesn't want to fall. It's pretty embarrassing if you trip."
There was no tripping, and Kwamie Lassiter's three young sons pretty much stole the show by striking Heisman poses and popping their shirts on the runway, and Kurt Warner's wife has much longer hair than she used to, and McNabb wound up taking two women down the runway and then shaking his backside at the assembled photographers, and everyone went back outside for a few hours to get ready for a night of Scottsdale parties hosted by Carmen Electra and ESPN and Maxim.
"The only bad thing about this fashion show--everything they wear you have to buy," quipped former Redskins tackle Ray Brown.
By Dan Steinberg | February 1, 2008; 6:16 PM ET
Categories: NFL , Redskins
Save & Share:
Previous: The Scene in Scottsdale
Next: Stacy Keibler and the Beach Bowl: The Video
Posted by: ScottVanPeltStyle.com | February 2, 2008 8:15 AM | Report abuse
Posted by: sitruc | February 2, 2008 10:05 AM | Report abuse
The comments to this entry are closed.