The Scene in Scottsdale

All the fun is really happening downtown in the Dirty 'Dale.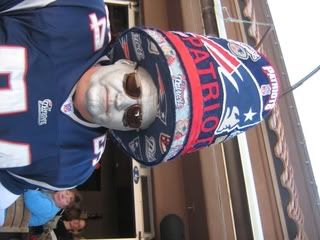 For example, you can head into the corner Starbucks, where Maxim models are wandering around with video cameras asking men to strip down to their boxers and dance for the camera. Really. It's for MaximOnline. They didn't ask me to dance, although I probably would have.
Then, hey, is that Bill Simmons, wearing a Fenway Park shirt? Why yes, it is. And he's accompanied by his father, whom I was equally excited to meet and who is a real charmer.
The ESPN set is surrounded by mostly Patriots fans, some touting 19-0 apparel and signs. Talk about bad karma. There are also fans mixing in some Yankees gear or Mickey Mantle t-shirts, or some Bruins or Celtics hats, and lots and lots and lots of Red Sox stuff. Some company is handing out Red Sox and Yankees 2008 schedules all over the 'Dale.
It's tough to walk without stumbling into someone famous; say, Donovan McNabb rushing out of the NFL Wives Fashion Show (much more on that later.....yes, I got to watch Kurt Warner's wife strut down the runway).
And then there's the Patriots fan with painted face and elaborate head gear, who is greeted by honks and requests for photos as he walks up and down Scottsdale Avenue. I asked him whether we'd hear "Yankees Suck!" chants on Sunday. And now someone in the Starbucks is recalling via loud cell phone conversation all the celebs she's posed with for pictures this week, including Matt Hasselbeck, Jesse Palmer, Joe Montana and loads more.
"I guarantee it," he said. "I guarantee it."
By Dan Steinberg | February 1, 2008; 4:42 PM ET
Categories: NFL
Save & Share:
Previous: The NFL Experience, in Video
Next: The Players Wives' Fashion Show
Posted by: Anonymous | February 1, 2008 4:48 PM | Report abuse
Posted by: ScottVanPeltStyle.com | February 1, 2008 5:32 PM | Report abuse
The comments to this entry are closed.