The Super Bowl Tailgate

Three hours before kickoff, Super Giant--a New York fan in storm trooper helmet--and Method Man--a blinged-out Pats fan with grill and jeweled "Brady to Moss" broach--were attempting to pose for dueling fan photos outside University of Phoenix Stadium. A friend stood nearby, offering advice for how best they might display their animosity. They began with crossed arms, staring at each other. Then they moved on to posed punches.
"I should be a movie director," the friend said happily.
The scene outside the stadium, in other words, was tailgating-gone-Disney, rival fans playing for the cameras when they weren't theatrically booing each other. Outside FedEx Field, Redskins fans smash megaphones over the heads of visiting fans; here, a man in Colonial Patriot garb was putting his arms around Giants and Patriots fans alike and smiling for the cameras.
"It's unbelievable, it's brilliant," said James Philip, a 38-year old Giants fan from outside London who was draped in a British flag. "It's just really civilized, unlike a British soccer game where there'd be sort of tribal gangs wandering around. If you went to the FA Cup final you couldn't stay in the same hotel with the other fans, couldn't take the same courtesy bus together."
Indeed, for better or worse, this was the most civilized pre-game NFL scene I've seen this season, from the wood-fired pizza stands to the manicured walkways to the VIP-only official tailgate featuring the Desert Oasis and Native dancers.
Giants and Pats fans stood together in long lines seeking entrance to the memorabilia store and to the booths where water cost $5 and beer $10; they sat together in the tent listening to a cover band perform Outkast and Justin Timberlake songs; and they stood together and waved frantically at the cameras hovering over the NFL Network set.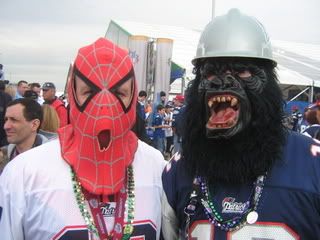 That set was a magnet for the costumed, such as Ontario native Orlando Cassavia, face painted with a maple leaf, head covered with a Canada winter hat and torso covered with a Canadian national hockey jersey. His sign read "Need better seats, can't see the puck from here, eh?"
"I'm a confused Canuck," he said, before changing his story. "It's a shameless Canadian ploy to get on television, how's that?
When the camera pivoted over the crowd there was mayhem. Super Giant Keith Arbeeny--who normally wears $1,000 worth of full body armor that he left at home due to security concerns--glared at the camera through his self-described futuristic football super hero helmet. A group of Giants fans carrying two sets of letters to spell their team name lost their minds at the sight of the camera: "GNIAIGS," they quickly spelled.
Patriots fans were equally weird, from the two "Maroney Brothers" wearing dreadlocked wigs to the Spider Man and Gorilla Suit Man with "Smerlas" written on his back, in honor of the famously hairy nose tackle.
And while the costumes were primarily the domain of the diehards, there were also fans supporting virtually every NFL team. Witness the jerseys of Carson Palmer and Brett Favre, Ben Roethlisberger and Tony Romo, Tony Dorsett and Fred Smoot, Peyton Manning and Anquan Boldin, Jim Zorn and Fred Biletnikoff, further dissipating any sense of pre-game antipathy.
Even the hecklers were conciliatory; Jeff Antalic, a native of Lynnfield, Mass., held a "19-0" sign and screamed about how the '72 Dolphins and the Giants both had trouble sleeping last night, but he backed down when asked whether he might be inviting bad karma and insisted he had maximum respect for the Giants.
Why such friendliness? Why such perspective? What happened to that typical pre-game NFL hatred? Unclear. Maybe everyone was still too tired from watching Snoop Dogg endorse drunkenness and recreational drug use at the Penthouse party on Saturday night.
" It's not life-threatening," explained Method Man, the Pats fan with the bling, real name Ron Rogers, from Providence. "It's not the end of the world. It's a game, right? It's a game."

By Dan Steinberg | February 3, 2008; 5:34 PM ET
Categories: NFL
Save & Share:
Previous: I Interview Carmen Electra and Wolf
Next: Hitting the Red Carpet
Posted by: The Mayor | February 3, 2008 9:32 PM | Report abuse
Posted by: ScottVanPeltStyle.com | February 3, 2008 10:45 PM | Report abuse
Posted by: sitruc | February 3, 2008 11:25 PM | Report abuse
Posted by: Dave Richardson | February 4, 2008 9:03 AM | Report abuse
Posted by: Kev | February 4, 2008 9:27 AM | Report abuse
Posted by: Artem | February 4, 2008 11:05 AM | Report abuse
Posted by: pack4life | February 5, 2008 10:29 AM | Report abuse
Posted by: Andrew from Colonial Hoops | February 5, 2008 11:24 AM | Report abuse
The comments to this entry are closed.