Three-Foot Ovechkins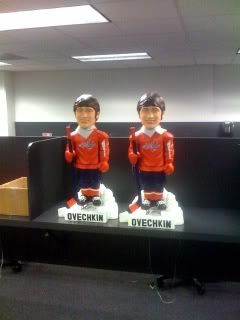 Obviously these three-foot tall bobbleheads are not entirely unique, but two Ovechkin three-footers side by side still seems worth posting, especially when the photo came from beat writer Tarik El-Bashir's iPhone.
Would I take a three-foot full-toothed Ovie over a Donald Bonvie bobblefists doll, sponsored by Blue Cross of Northeastern Pennsylvania and Highmark Blue Shield? That's a topic for a bar and a Labatts.

By Dan Steinberg | February 21, 2008; 2:21 PM ET
Categories: Caps
Save & Share:
Previous: Media Vomit Coverage
Next: Virginia Tech: A Star and a Headband
The comments to this entry are closed.