AU Watch Party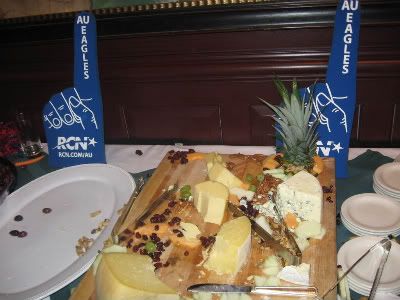 Here's the thing about today: I have no voice. None. I'm unable to speak. It's been mentioned that it sounds as if I've been kissing Coach K. A video Q&A between the two of us right now might become the highlight of my life, but veteran college basketball scribes say the chances of that happening "do not exist."
Figuring my usefulness in an open-locker room setting might be minimal, other than for comic relief, I wandered around Gallery Place until I heard a roar coming from some back hallway of Clyde's. That would be the AU Young Alumni American Eagles watch party, an event that has no security. Just walk right in and grab your raffle ticket, some finger food, and, what's this, a massive cheese platter? Lovely. The young AU alums are wearing ironic headbands, and ironic "Property of American University Athletics" t-shirts, and ironic--or possibly non-ironic--double-pony-tail hair cuts.
That latter style was sported by Constantin Motnii, a 6-foot-9 Russian who was with American at the beginning of the season and no longer is. I'm not sure exactly what happened, but I figured it would make for a great blog item, but for the fact that I can't bloody speak.
Anyhow, it's 29-22 Tennessee at the break, and although American has nobly played with the Vols for the entire first half, led for much of the early going and definitely kept the pace at the properly glacial tempo, the Eagles are still poised to lose by 20. Sorry.
By Dan Steinberg | March 21, 2008; 1:19 PM ET
Categories: College Basketball
Save & Share:
Previous: Religion and the 16 Seed
Next: American Loses
The comments to this entry are closed.