B-Lloyd, Still Writing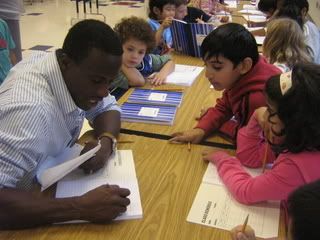 Dan: See, this is why I like Brandon Lloyd. He's sort of funny, he's not a bad writer, he has fond memories of both the Atari 2600 and the Super Nintendo, and he spent the end of this season nursing his broken collarbone and beating Kane & Lynch.
Redskins Fans: That's well and good, he might be an ok writer and he might be a great guy to hang out with in the basement and he might not hide his inner nerd, but that doesn't mean we want him infusing our team with the smell of suckitude and the taste of I-don't-care and the fabric of me-first.
Dan: Ok, but if you could get someone to pay you seven figures for not necessarily trying too hard at your job, money that you could then plow into old Atari purchases from the eBays, wouldn't you do it? Can't knock the man for getting paid. I mean, I get paid for doing nothing more than copying and pasting his words. Like these:
When Nintendo first came out and all our friends were talking about Mario, we were going home and still playing Pitfall and jumping over alligators. We finally had to break that Atari 2600 to get the Super Nintendo. I remember one day, Mark and I got together and took the chance that breaking our Atari would lead to our parents getting us a new system. We acted all sad, like it broke out of nowhere, but we snapped the stick that turned it on then ran to our parents. It was right around Christmas time, and our parents came through with that Super Nintendo. Sure, we were sneaky, but it had to be done.
Redskins Fans: You're right, Dan, we're sorry.
(Via The Big Lead)

By Dan Steinberg | March 12, 2008; 4:11 PM ET
Categories: Redskins
Save & Share:
Previous: Mount Maniacs, and More Pith
Next: Atlantic 11 on Video
The comments to this entry are closed.