CAA Costumes
Still working on a Mason Wins video from last night, but I figured I should provide documentary evidence that Mason and William & Mary fans do, in fact, wear costumes. A sampling:
A William & Mary fan, dressed like a bear. His friends were also dressed uniquely, in tight shorts, as I recall. "All William & Married out," was how John Ellison described them.

The previously mentioned Mason fan who said he was dressed like "An Ambush." I felt surprised. Sports fans are weird, huh?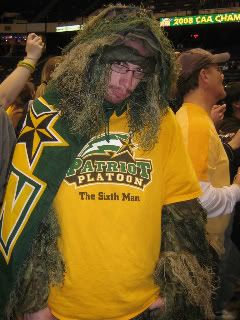 The Burger King, which I've now seen at a handful of sporting events. This member of the hamburger royal family was everywhere during the court storming, and simply must have gotten on national highlight shows, right?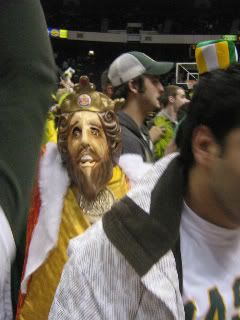 A William & Mary cheesehead. The green and gold and yellow and green and whatever other similar colors around last night were thoroughly disconcerting. But it never occurred to me that Mason fans could wear cheeseheads. I mean, Fairfax County has to have as good a selection of high-end cheeses as Williamsburg.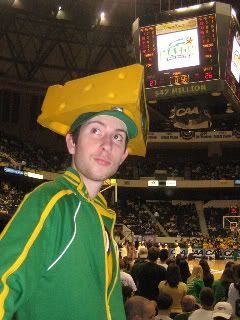 By Dan Steinberg | March 11, 2008; 2:07 PM ET
Categories: College Basketball
Save & Share:
Previous: Bracket Advice
Next: Today's Top Five: Mason Reaction
The comments to this entry are closed.