DeShawn's T-Shirt Upgrade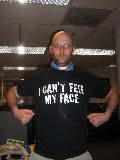 Last year DeShawn Stevenson gave away 3,000 "I Can't Feel My Face" t-shirts, and while it was a great gesture, the t-shirts were sort of smallish, and the design left a bit to be desired. Note: I'm not a particularly large man, and yet this still looks utterly ridiculous.
Well, judging from this bowling photo, someone's gone out and splurged on a higher caliber of post-shot celebratory-phrase with vaguely-troubling potential-undertoned catch-phrase t-shirt.

Incidentally, there have been plenty of fabulous beard-contest updates since Drew Gooden was traded to the Bulls.
* From the Daily Herald: "It might last two or three years," Stevenson said before Friday's game. "But if it gets too ridiculous, I don't think we'll go that far. His is getting a little too wild right now."
* And again this AM: "There's a lot of controversy surrounding my beard that I should have cut it, especially with the women," Gooden said with a laugh. "But I'm not going to go for those scare tactics. That's not going to work. I am determined to win."
* From the Sun-Times: "Bulls forward Drew Gooden and Washington Wizards guard DeShawn Stevenson checked out each other's beards when they went to dinner Thursday. The high school friends have bet $20,000 on who will give in and shave first....Gooden said he has passed the itchy/scratching stage. ''I'm in the food stage, where everything gets caught in it,'' he said.
* From the Chicago Tribune: "Gooden has a $20,000 bet with Wizards guard DeShawn Stevenson over who will cut his beard first. Told that former college teammate Hinrich mocked its length, Gooden fired off this classic: 'My goal is for him to try to grow a beard.' "
* From D.C. Sports Clowns: "Barring the use of BGH (beard growth hormone) or a serious shaving mishap on the part of Gooden, it looks like he's got this one in the bag. Here's hoping they both shave off their massive chin-straps when this is all over and donate them to a beard-weaver near you."

By Dan Steinberg | March 6, 2008; 4:47 PM ET
Categories: Wizards
Save & Share:
Previous: AU Storms the Court Again
Next: Bucknell Announcer Loses Mind, Soul
The comments to this entry are closed.