Duke Discusses Maryland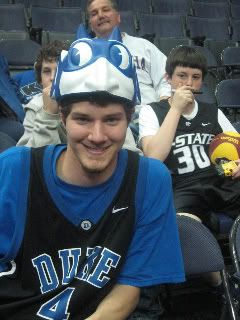 After an early afternoon of Georgia, Xavier, Purdue and Baylor, Duke finally brought buzz to the building. Maybe it's because people are now blowing off work to come to the open practice, or maybe it's because the Yankees are here, drawing such luminaries as Doug Collins and Wizards PR guy Daren Jenkins. And a lot of people wearing blue. The end of practice was an impromptu slam-dunk display, with alley-oops off the backboard and 360s and rounds of applause and standing ovations.
Duke had its open locker room before the practice. I would assume that some sort of Maryland fan element would be filling the seats this week and making anti-Duke noises. One of the biggest questions of this weekend, in fact, is what do those Marylanders do if Duke faces West Virginia in the second round? Agony, right? Root for the refs? Root for the popcorn? Anyhow, I figured I'd take the predictable tack of asking the Devils which is the toughest road venue they visit.
"Definitely Maryland," Steve Johnson said. "They were loud before the game, during the game, after the game. You've got guys sitting on the baseline yelling. Just a crazy crowd. Some stuff was pretty offensive, but you could just tell they hated us. You could easily tell. And UNC was kind of like that. Not as vulgar language, though."
"Probably Maryland," Gerald Henderson said. "I don't know, they must just really hate us over there, because whenever we get on the court, it's like the devil's coming in there. Well, the Devils are coming in there. It's just, I don't know, they really hate us over there, get on us from shootaround till the end of the game. I don't know what it is. I guess we beat them enough in the past that they come with this hatred for us, but it's pretty intense."

"I'd say Maryland's probably the most hostile place," Kyle Singler said. "The fans are into it, and there's just so many of them. I think that's just the main part of it, And they've got posters with pictures of you. The fans are nasty, and there's so many of em."
"I'd probably say Maryland," DeMarcus Nelson said. "Their fans, there isn't anything they won't say. It's a great environment for us to play in."
"It was probably Maryland," Jon Scheyer said. "They have a lot of fans on the court, and they know things about you and they just try to get in your head. And the thing with that, that's fine with us. We have fun with it. And we went in there and made a pretty good feeling."
And the posters with Scheyer making the Scheyer face?
"I don't really care," he said, as other teammates snickered. "Anything they want to do, they can do that about anybody. You take that as a sign of respect. I mean, obviously if they think you're worth making all those posters for hours--who knows how many hours they put into doing that--that's fine with me.
The crowd here this afternoon makes it clear that Duke has plenty of fans, and yet the Blue Devils also pretty clearly have plenty of, um, non-fans. You'd think simple odds would dictate some of those would be members of this roster, right? So I asked many of the players what team they grew up rooting for.
"I liked watching Duke," Greg Paulus said. "Just the way they played, everything they stood for, the type of success and the tradition they had."
"I've always liked watching Duke and players like Jason Williams and Chris Duhon and even Coach Dawkins," Nolan Smith said.
"I was always a Duke fan," Johnson said. "I think I just liked them 'cause they were always on TV and I always got to watch them. I always just ended up rooting for them, I guess."
"I mean, they're on TV all the time," Henderson said. "I guess that's the only team I can really think of that I really watched like that."
"Once I got into basketball I watched Duke a lot," Singler said. "They're just a fun team to watch...with Coach K, the coaching staff and just the tradition that they've brought to college basketball."
I mean, it's unbelievable, right? A whole Duke team of Duke lovers? And this arena was well-filled with Duke supporters today, screeching for players to interview autograph their hats and shoes and t-shirts and the like. Was there no one here who rooted against the dominance, the tradition, the television monopoly?
"There were times when I was a Duke fan, and there were other times that I wasn't really a Duke fan, because they were so good," Scheyer said, which grabbed my interest, anyhow. "I was like everybody else that wanted to see them lose a couple times....I understand, definitely. It can get old, maybe, because some people feel that they don't like to see a team win all the time, they want to see top teams lose. That's just the way college basketball, and sports in general, is."
This made me feel a little better.
"But I always respected Duke," Scheyer concluded, "and I always loved Duke."
By Dan Steinberg | March 19, 2008; 5:39 PM ET
Categories: College Basketball
Save & Share:
Previous: Purdue Practices, Duke Eats Lunch
Next: DeShawn Calls Out LeBron Again, and Again
The comments to this entry are closed.