Duke Sneaker Art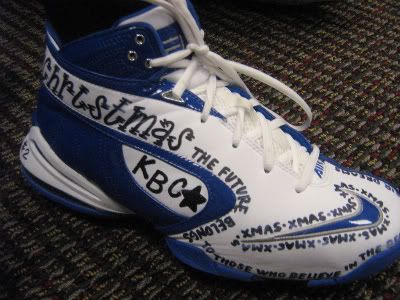 The best sneaker art I saw at the D.C. subregional came in the Xavier locker room, where someone had written "Sweet 16" on his kicks. The best I've seen nationwide came on Stephen Curry's shoes, which read "I Can do all things." But these are mere insignificant trifles compared to the sneakers in the Duke women's locker room, which are easily the best Division I kicks I've ever seen.
The artwork is done by freshman Karima Christmas; "that's called the Karima font; it's trademarked," one of the other Devils told me.
"You just say, 'Hey Karima, freak sum'," Wanisha Smith, describing the commission process.
The shoes pictured here are the left and right sneaks of Christmas and Smith, but there are others that bear the Karima font. I know they're kind of hard to read, but Smith's right reads "When I get the rock ur at my mercy," and her left reads "I get buckets," and some other stuff.
Christmas has the "Xmas" and "LAX/HOU" borders, paying tribute to her last name, city of her birth and current residence. Her right shoe reads "The future belongs to those who believe in the beauty of their dreams," quoting Eleanor Roosevelt, while her left shoe reads "Our deepest fear is that we are powerful beyond measure," quoting Nelson Mandela.
Amazing, in my opinion. Go Devils. The other pics after the jump.
(And full disclosure, without name tags or rosters, when I saw Christmas's shoes I was like, "what's with all the Christmas stuff?" No, that wasn't embarrassing at all.)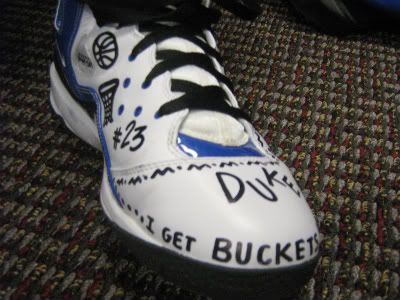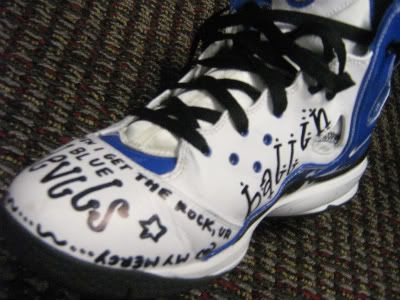 By Dan Steinberg | March 25, 2008; 12:57 PM ET
Categories: College Basketball
Save & Share:
Previous: Wiz and Cavs Wage Destiny's Child War
Next: Bolno to Redskins
Posted by: qualude conduct | March 25, 2008 1:38 PM | Report abuse
Posted by: Unsilent Majority | March 25, 2008 1:45 PM | Report abuse
Posted by: DeepFriar | March 25, 2008 2:29 PM | Report abuse
Posted by: The Christ | March 25, 2008 2:36 PM | Report abuse
Posted by: StetSports.com | March 25, 2008 3:00 PM | Report abuse
Posted by: devans | March 25, 2008 3:14 PM | Report abuse
The comments to this entry are closed.