'Eers Win, Eat Manny & Olga's

Not five minutes after West Virginia completed the least surprising 7-over-2 seed win in NCAA history, a team manager type went sprinting down a Verizon Center hallway with a wonderful mission: pick up the pizza. More than 20 pies, from, where else, Manny & Olga's.
"It's what the concierge gave me at the hotel," he told me.
The 'Eers also ate Manny & Olga's after their first-round win. Gotta send some of those joints to Phoenix. The reaction to the pizza in the locker room was ravenous elation.
"Oh my God, so good," said the wonderfully named Cam Thoroughman, as he grabbed his sixth slice. "I'm gonna try to eat 10."
Elsewhere in the locker room, the mood was a curious mix of unsurprised confidence and Sweet 16 revelry. The unsurprised confidence came from the matter-of-fact realization from everyone in that locker room and everyone who watched five minutes of that game that the 'Eers were simply the better team, and would beat Duke on a neutral court more often than they'd lose.

"Honestly, I felt like we were the better team from the beginning to the end," Da'Sean Butler said.
The Sweet 16 revelry was reflected best in the white board, which read, for several long and glorious minutes, "We Are Going to [Bleeping] Phoenix." Except it didn't say "[Bleeping]." Finally a public relations type erased it, but not until the words had been burned into the minds and notebooks of every self-respecting blogger.
Eventually, the 'Eers left the locker room and, following Roger Mason Jr., came out to the court, where they were serenaded by the largely gold crowd that remained to watch the second game and likely to swear some more. (Printable West Virginia fan insult from the first game: "Hey ref, why don't you blow something besides that whistle!!!!") Bob Huggins came out, too, sitting with his assistants on press row and eating, you guessed it, popcorn. If I've said it once I've said it a billion times: this tournament, first and foremost, is about the popcorn.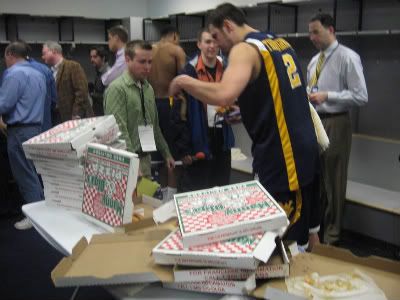 By Dan Steinberg | March 22, 2008; 6:09 PM ET
Categories: College Basketball
Save & Share:
Previous: Purdue's Paint Crew is Here
Next: Hoyas Lose: Observations
The comments to this entry are closed.